We may earn commissions when you buy from links on our site. Why you can trust us.

Leapfrog's My Own Leaptop is a Laptop for Toddlers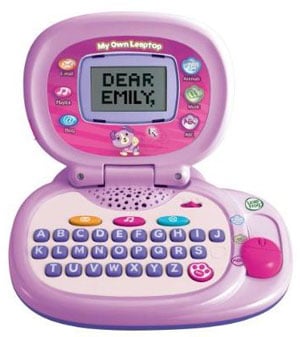 You can let your toddler loose on this laptop, Leapfrog's My Own Leaptop ($25). With sturdy construction and a handy carry handle, it's just right. And there's even a built-in guide, Scout (green) or Violet (the pink version), that will walk your child through all of the activities.
First, you'll want to plug the Leaptop into your computer to personalize all of the activities with your child's name. So from the time your child turns the Leaptop on, his or her name will be incorporated into the dialog.
The three main activities are email, music and blog. For email, you can select pre-canned email messages to be sent to your child that are personalized with your name or the names of other friends and family. In music mode, your child can listen to songs you download from the Leapfrog Connect service, including a special song that spells out your child's name. And in blog mode, your child can catch up on what Scout or Violet are doing.
For more details, check out our demo.
---
Leapfrog My Own Leaptop
Price: $25. Check the price at Amazon.com
.
Discussion