Review of the Roku Streaming Stick
Techlicious editors independently review products. To help support our mission, we may earn affiliate commissions from links contained on this page.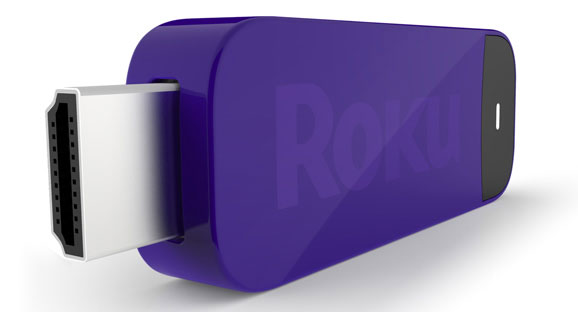 Roku, a maker of TV set-top boxes that stream video from the Internet, is now offering the option of eschewing its boxes altogether.
Instead, it recently began selling a product named the Roku Streaming Stick ($99.99 on roku.com), the equivalent of a set-top box in the now familiar form of a plug-in stick.
I've been testing it since its release last month and have been pleased with the way it works. But there are some caveats to keep in mind before you run out to buy one––including, perhaps most important of all, the limited number of devices with which it will work.
How it works
Slightly larger than the now ubiquitous USB flash memory stick, the Roku Streaming Stick doesn't use USB at all, but instead incorporates a new kind of connector named MHL or "Mobile High-Definition Link" that also has been adopted by makers of TVs, Blu-ray videodisc players, audio/video receivers and other home entertainment products, including Hitachi, Insignia (Best Buy's subsidiary brand) and 3M.
Visually identical to the already common HDMI connector, the MHL connector is different in two important ways. First, it allows the MHL connected device––such as the Streaming Stick––to draw power from its host device. Second, it allows the connected device to both send and receive commands back and forth with the host. (HDMI connections allow neither of these possibilities.)
Thus, an MHL-connected device doesn't need its own AC power cord nor even a built-in rechargeable battery, and it also doesn't require its own remote control; rather, the remote control from the host device (a TV or Blu-ray Disc player, for example) can be used to control it.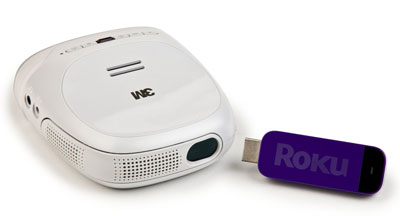 I have used the Streaming Stick with the new palm-size 3M Streaming Projector ($299.99 on shop3m.com, $294.88 on amazon.com
), which includes the Roku accessory.
Set-up was simple. The Streaming Stick slides into a compartment on the back side of the projector, which gets plugged into an electrical outlet and then wirelessly connected (via Wi-Fi) to a home network.
From this point forward, the projector's remote control was used to navigate through the more than 600 "channels" Roku offers, which include subscription streaming video services such as Netflix, free streaming video services such as Crackle, and standalone streaming video providers such as HBO or Fox News Channel.
Yet while the Roku stick supplies Full HD (1080p) video quality to whichever display it's ultimately utilizing, the resolution you see will depend upon the best capabilities of that display. The 3M Streaming Projector, for example, projects a lower quality of HD (720p) video.
What else works with it
MHL is an emerging technology standard intended to simplify the connection of mobile phones and other portable devices to HDTVs and other home entertainment products, for the playing of high-definition video and digital audio. According to the MHL Consortium, the industry group behind the standard's development, it is supported by more than 170 companies, and there is a wide variety of MHL-equipped products already available at Best Buy stores, including smartphones, tablets, HDTVs, Blu-ray Disc players, audio-video receivers and accessory adapters.
However, Roku in particular is promoting MHL-equipped HDTVs that work with the Streaming Stick (and with Roku's set-top boxes) as "Roku Ready," and the list is extremely small. There are only two Roku Ready HDTVs currently available from Insignia, and just seven more identified as "coming soon" from Hitachi, according to Roku. Other companies that Roku announced last fall as "Streaming Stick partners" include Mitsubishi Electric, Haier, Onkyo and Integra, and TMAX Digital (which makes Apex Digital TVs). And at this year's CES, Coby Electronics, Harman Kardon, and Westinghouse Digital, among others, joined the ranks. But none of their Streaming Stick compatible products are listed on Roku's website as either available or coming soon.
In addition, Roku offers free remote control apps for iOS and Android mobile devices. The apps work with the Streaming Stick as well as with any of Roku's set-top boxes. And their integrated "Play on Roku" function streams photos and music stored on the mobile device to the Streaming Stick (or set-top box).
Should you buy it?
The Roku Streaming Stick is a simple-to-use, inexpensive device that provides access to a large selection of streaming videos from the Internet and other digital media from mobile devices. For those few people that happen to have an MHL-equipped TV or are planning on buying a set that supports MHL, the Roku Streaming Stick is worthy of consideration.
Discussion