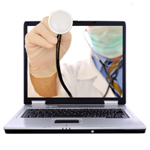 The Internet is a great way to find answers to questions about your health. But it's also a minefield of misinformation, questionable sources and outright fraud. So before you go online to research health questions, follow these tips we received from the Federal Trade Commission to ensure that you're getting the real deal.
Consider the source
When you're looking for health information online, it's easy to get overwhelmed by the number of websites, and hard to tell which are truly reliable. Instead of a random search, try starting with trusted sources.
Government websites (sites ending in .gov) are a good bet. Two great websites are MedlinePlus and Healthfinder.gov; they let you look up hundreds of health topics and the latest health headlines. Also, the U.S. Government's Health & Nutrition portal will lead you to an amazing range of health resources, across every government agency.
University or medical school websites (.edu) such as Harvard Health Publications, and the John Hopkins Medical Desk Reference, and nationally recognized health or research facilities, like the Mayo Clinic are also great sources.
Not-for-profit groups with a mission that focuses on research and teaching the public about specific conditions such as the MD Anderson Cancer Center or the Memorial Sloan-Kettering Cancer Center for cancer information, the North American Menopause Society and Autism Society of America (whose sites typically end in .org), can also be good resources. Other reputable not-for-profit group sites include Cleveland Clinic and the National Health Council.
But keep in mind that ".org" or a fancy sounding "institute" name doesn't guarantee a site is reputable. Scammers can set up bogus .org sites and anyone can call themselves an "institute". Our advice: if you haven't heard of it, avoid it.
Trusted commercial sources include WebMD, The HealthCentral Network, DestinationRX, and Revolution Health, along with the Merck Manuals Online Medical Library.
There are also health-specific search engines. Check out the health section on Google's integrated health search, along with sites that have health-specific search engines such as Healthline, Healia and WebMd's emedicine.com.
Only buy prescription drugs from licensed U.S. pharmacies
What looks like an online pharmacy could be a front for a scammer or identity thief. The sites may use official looking seals and logos, promise money back guarantees and "look" legitimate, but all of that can be faked. You could end up with products that are fake, expired, mislabeled or the wrong dosage. They could even contain dangerous ingredients. Or, you might pay for a prescription and never get your order — or your money — back.
So how can you tell if you're dealing with a legitimate pharmacy? To see if a pharmacy is licensed, check with the state board of pharmacy where it's based. The National Association of Boards of Pharmacy (NABP) has information on each state's board. Reputable pharmacy websites also should require a prescription, have a licensed pharmacist to answer questions and provide a physical business address and phone number.
But let's be realistic. Huge retailers like Costco, Walmart and drugstore.com are often able to offer the lowest prices because of the volume of customers they serve. If you find a site you've never heard of on the Internet offering prices lower than the big guys, an extra dose of caution is warranted.
Avoid sites that seem to good to be true...
...because they almost always are. They may make big promises about their product curing a serious disease like arthritis, diabetes, Alzheimer's disease, multiple sclerosis, cancer or HIV-AIDS. Or, maybe they offer a weight loss pill that lets you lose weight without exercising or eating less. Yeah, right...
They may also try to fool you by touting "scientific breakthroughs" or "ancient remedies," or the ads may use scientific-sounding words like "thermogenesis," or safe-sounding words like "natural." But the reality is that most of these products are useless, and at best a waste of money. Others are flat-out dangerous to your health. Let's face it, real scientific breakthroughs don't happen on obscure Internet websites.
And don't trust a website just because it looks professional or has success stories from "real people" or someone claiming to be a doctor. The stories may be made up, or the people may be actors or models paid to praise the product.
So before you try a new health product, ask your doctor about it. Your doctor can tell you about the risks of a product, as well as how it could affect any medicine you're taking or treatments you're getting. And potentially save you from getting seriously ripped off.