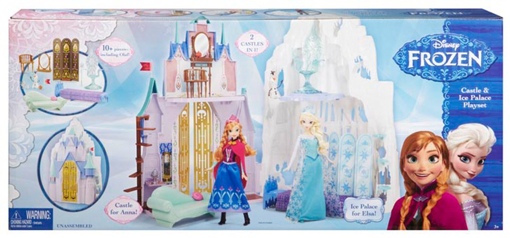 Does it seem like the hottest holiday gifts are even harder to find in stores this year? Amazon.com may be to blame. According to CNET, an increasing number of people are making a living this season through retail arbitrage – that is, buying hard-to-find toys and other gift items in retail stores and reselling them online through Amazon at huge markups.
Case in point: One of this year's hardest-to-find gift items for kids is the Disney Frozen Castle & Ice Palace Playset by Mattel. The movie-themed dollhouse is sold out at most Toys R Us locations and at other major retailers. But there are plenty in stock at Amazon thanks to third-party retail arbitrage sellers if you're willing to pay "Mommy I gotta have it!" prices. Currently, that's $285, more than double the normal $119.99 retail price of the toy.
More often than not, Amazon resellers aren't just fellow parents who got lucky. They're people who devote a lot of time and effort to beating you to the punch to buy the holiday's hottest toys. They go around from store to store on delivery days, filling their carts with as many popular toys as a store will allow them. "When you see somebody has three carts full of the same item – OK, they are not getting it for their kids," explains Jim Sheppard, a professional retail arbitrage reseller who has flipped his share of Frozen Castle & Ice Palace Playsets.
Of course, reselling hot items around the holidays is nothing new. Decades ago, people took out classified ads in newspapers to help sell Cabbage Patch Kids and Tickle Me Elmo dolls to desperate parents for hundreds of dollars. The existence and mainstream status of Amazon.com makes the reselling process easier and quicker than ever before. And there's no risk for these sellers – any inventory that doesn't sell can be returned to the store it was bought from for a refund.