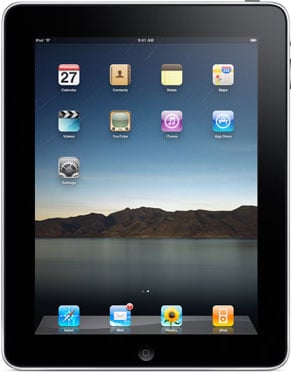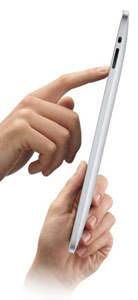 A few hours ago, Steve Jobs finally unveiled Apple's new tablet, the iPad. What is it, and do you want or need one?
First off, iPad is more than simply a giant iPod Touch (it's not really a giant iPhone since it doesn't make or receive calls). With its light and skinny physical specifications and wireless Web connectivity, it's a unique all-purpose information, productivity and entertainment device. It does everything a Touch does (it runs all 140,000 iPhone apps) on a screen more than twice the size, and it does most of what a netbook does at half the weight (but 2-3 times the cost).
What makes iPad so compelling is not any specific application, function or new capability, but its familiarity – if you've used an iPhone, Steve Jobs says, you know how to use an iPad. It's more than the sum of its parts.
The iPad becomes your secondary device on steroids: a digital book reader, a gaming machine or email reader, plus 140,000 other capabilities. It comes at a much higher price than a Kindle or Nook, but you get a color ebook reader with embedded videos. You'll pay more than for a PSP, but you get a better game player.
Unfortunately, the iPad comes with some limitations as well. Like the iPhone, the iPad cannot run simultaneous applications (except for playing music while you're working) and its browser does not support Flash. And all that beautiful Apple design will cost you 2-3 times as much as a typical netbook.
iPad Pricing and Availability
| | | | |
| --- | --- | --- | --- |
| | 16 GB | 32 GB | 32 GB |
| Wi-Fi (end of March) | $499 | $599 | $699 |
| 3G (end of April) | $629 | $729 | $829 |
Do you want to carry around something the size of a Dr. Seuss book, though? And is the 10-hour battery enough for the heavy real-life usage iPad is likely to get?
We're guessing four groups of people will answer yes (or come up with a rationale for one):
iPad has most of the features you need in a laptop — built-in pop-up touch QWERTY (or an accessory keyboard dock); $10 word processing, spreadsheet and presentation applications; street views; calendar; email; and of course all the movies and music from iTunes — in a far lighter (1.5 lbs., .5-inches thick) and far more entertaining portable PC, especially on a long plane ride. Plus, you don't need to tie yourself down with an AT&T 3G contract; you can sign-up for either a $15 (250 MB) or $30 (unlimited) monthly 3G plans on a month-to-month basis. Road Warriors:
Gamers. At 9.7 inches, iPad's screen is, by far, the largest for a portable game player. With the accelerometer and touch/multi-finger gesture control (e.g. you can swipe the screen to throw a grenade or draw a target box around a enemy while firing simultaneously), the iPad will provide a more immersive gaming experience than even a flat screen HDTV. As one developer noted, "It's like holding an HD screen up to your face."
Readers/information junkies: iPad's brighter LED backlit LCD screen provides more contrast than a Kindle or Nook epaper display, plus you'll be able to view full-resolution pictures, embedded videos, and you'll be able to read in the dark. Even if you don't buy books from the Apple iBook store, there are existing iPhone ebooks apps, including Kindle and Barnes & Noble. Apple didn't demo any publications other than The New York Times, but we know they're in talks with major magazine and text book publishers.
Sports fans: At the iPad event, an enhanced version of Major League Baseball's At Bat was demo'd, which includes both expanded simulated live pitch-by-pitch game updates, plus live footage from games. Husbands will now mind weekend shopping expeditions a little less. Presumably, other similar sports apps will be available.
Once someone in your family or peer group gets one, we're guessing you'll be drawn to iPad's wealth of functions yourself.