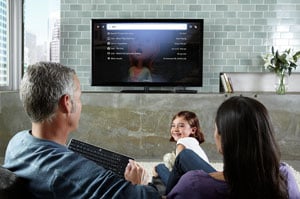 After months of lukewarm sales, Logitech just dropped the price of its Revue with Google TV system from $299 down to $99. The question is, does even that drastically reduced price make sense? That's going to depend on two key factors. How much use will you get from the features that currently work well? And how much improvement will we see when the system goes through what's billed as a major update later this summer?
There are lots of boxes out there designed to bring Internet content to "the biggest screen in the house," your HD television, but Google's effort is the most feature-packed and ambitious of the bunch. The Revue unit takes the video and audio from your cable or satellite provider and passes it through to the TV, so you can switch between web-based content and live TV programs with a single click, or show live TV programs in a window while viewing web content on the rest of the screen.
The Google TV system includes a full web browser, a feature found on only a handful of so-called "smart" TVs. It also includes several apps, including support for Netflix, Pandora, Amazon Video on Demand, YouTube, Twitter and more. And, with an optional $150 camera, you can make video calls between the Revue and anyone with a webcam. For a full feature-set rundown, check out Suzanne's article here.
With all that going for it, why did the haters trash the product?
- Full integration of the live TV experience and web-based content barely materialized. Your online search results include programs scheduled to appear on your cable or satellite system but, unless you're a Dish Network customer, you can't click on the results to record the show. And, except for Dish Network, those results don't include programs stored on your DVR. Google promised expanded relationships with cable and satellite providers, but they haven't materialized.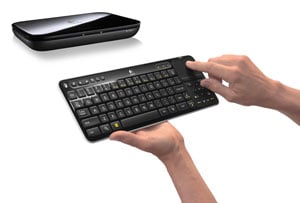 - You have to use a keyboard of some sort to control the system, and some people (though not yours truly) find that off-putting. The controller that comes in the box is actually a full-sized wireless keyboard, though capable controller apps are downloadable for iOS and Android devices.
- The TV networks and Hulu hosed Google by blocking access to streaming content on Google TV devices. You can watch last night's episode of America's Got Talent on your laptop. You can connect your laptop to your TV and watch it on the big screen. But you can't watch the same content through the web browser built into Google TV, and that's not a technical limitation, it's a network decision.
- The original price was admittedly high, when you consider that less elaborate web-to-TV solutions from companies like Roku start at $60.
All that being said, I've had a Revue system since the beginning, and use it frequently. The Netflix player is first-rate, and while Amazon Video on Demand could use a dedicated player app, streaming movies look good. So does YouTube content – often, when I feel like listening to music, I use YouTube to find a favorite artist rather than turning to a music app. And with HBO Go, I can watch current HBO movies at my convenience, and catch up on all the seasons of True Blood we missed.
The web browser isn't going to replace your computer any time soon, but the ability to run live TV in a window while cruising the web often proves handy, whether it's using IMDB to check the credits of a familiar character actor while watching a movie, or pulling up the CNN site while Jeopardy runs in a corner of the screen.
The Revue will stream music, photos and video files to the TV from my computers and network attached storage devices. The interface could stand a polish, but the convenience is still much appreciated.
And it turns out there are plenty of web video sources above and beyond YouTube that are fun to enjoy from the comfort of the couch. I wrote an article recently about Mark Hamill's voice-acting career, and wanted to watch an animé film he'd costarred in that wasn't streaming on Netflix. A quick search on Google TV and I had the entire film at my disposal, at no charge.
None of these useful features is going away, and you could certainly make a case that they justify a hundred-dollar investment. Soon, though, the value proposition will improve. Google plans to upgrade new and existing players to Android 3.1, with an updated user interface and access to downloadable apps through the Android Market. There's no word on whether the cable-satellite integration or web content blockage problems will be fixed, but the ability to download game, education, information and even productivity apps to the big screen is certainly tantalizing.
Unless plans change (as they've been known to do in the glamorous and exciting world of software development), the Google TV upgrade should be available before the end of the summer. At that point we'll have a better idea whether the system is an app-ealing choice for $100.