When you're buying clothing, one of the most important considerations is how it will look on you. But it's often hard to judge since it's rare that the model wearing the garment represents you – whether it's differences in body type, skin tone, hairstyle, or all of the above. Google aims to help with a new Google Search shopping feature called Virtual Try-on for Apparel.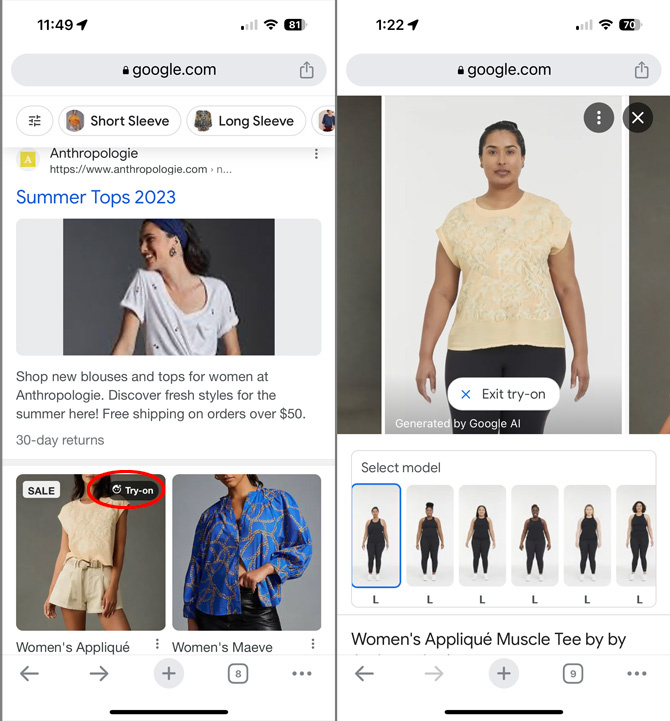 With Virtual Try-on, you can see how an item of clothing will look on a variety of models in different poses ranging from XXS to 3XL. For each size, there are up to six models with various skin tones and body types – a maximum of 40 for now. To accurately showcase the garment, Google takes the model picture supplied by the manufacturer and uses AI to make the fabric drape and crease realistically on the models.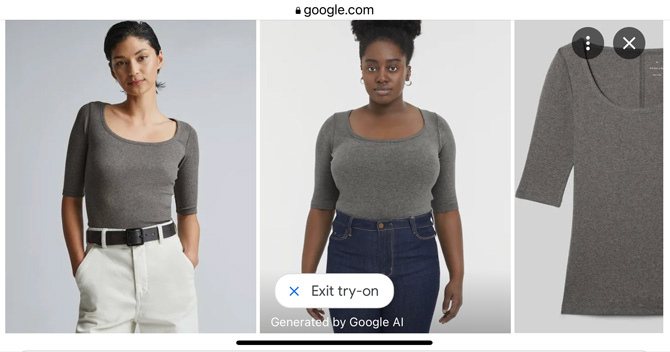 Once you've selected a model that best represents you, it will be saved to your Google profile. So the next time you use the Virtual Try-on feature, you'll see your model first.
Note that you will only see the Virtual Try-on option when using Google Search through the browser on your phone or tablet. The feature is not available when you are using a laptop or mobile device in desktop mode.
For now, Virtual Try-on is limited to a select number of women's tops from a handful of retailers, including LOFT, Anthropologie, Everlane, and H&M. Google expects to roll out male models (a total of 40), more clothing styles, and more retail partners.
[Image credit: screenshots and images via Techlicious]
For the past 20+ years, Techlicious founder Suzanne Kantra has been exploring and writing about the world's most exciting and important science and technology issues. Prior to Techlicious, Suzanne was the Technology Editor for Martha Stewart Living Omnimedia and the Senior Technology Editor for Popular Science. Suzanne has been featured on CNN, CBS, and NBC.