Today at CES somehow became the Day of the Refrigerator. Samsung debuted its sleek Family Hub refrigerator (with a 21.5 inch horizontal touchscreen and the ability to sync with your digital accounts) and Whirlpool its Smart French Door Bottom Mount Refrigerator (with smart phone alerts if the power goes out). But LG came prepared to compete with some pretty futuristic new technologies installed within their new Signature refrigerator.
First of all, you can knock on the Signature's door to see what's inside. No, really: LG's taken the door-in-door fridge setup they pioneered to the next level. Door-in-door refrigerators make it so you can grab the items you want handy (pop, juice, that ) without having to open the whole door, keeping more cold air in. Now, you don't have to open anything to see what's inside that first set of doors—just knock on the right door panel to turn the opaque, black panel into a lit, transparent window to your culinary dreams (see it in action in our video below). LG says that this feature will reduce energy usage "significantly."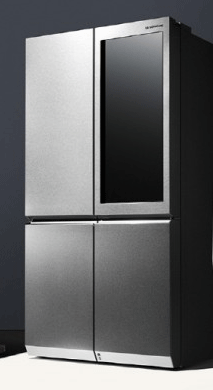 Aesthetically, the Signature refrigerator has a silver stainless steel exterior with two French doors for the refrigerator on the top and two for the freezer on the bottom. The disappearing panel on the right door just looks like it should have always been there.
There's also a sensor on the bottom of the refrigerator that lets you open the doors without having to touch them. Just place your foot in front of the sensor, and it opens. That might lead you to believe that pets or small children could easily trigger this auto-open mechanism (and after Fido's last meeting with chocolate, that's the last thing anyone needs). LG says the door is smart enough to know that it shouldn't open just because a pet or toddler rushes by, although LG has been mum about how, exactly, that happens.
As for the inside of the fridge, there's a Wi-fi display within the front panel to let you monitor energy usage, as well as an inverter linear compressor and stainless steel interior for better cold air retention.
Other than that, there's not much information about the refrigerator that's been divulged yet, and LG hasn't yet mentioned a release date or price. The LG Signature's door-in-door predecessors are all $2,000 or above, so this decked out model is probably going to cost you a pretty penny.
[LG Signature video via Techlicious, LG Signature photo via LG]