GM OnStar may be the most famous, but many car companies—including Toyota, Ford, BMW and Lexus—offer car concierge and safety services. These handy little systems automatically summon help in an emergency, help you track down the nearest ATM or score reservations at your favorite sushi restaurant. Now Maxell's new KeySmart personal GPS device, which is powered by the VehSmart service, allows you to get that same level of security in any car—or wherever you are.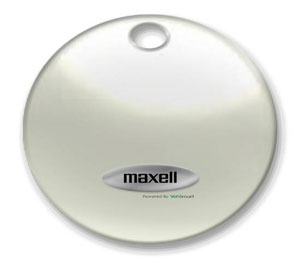 This small, 2.2-inch disc can fit on your keychain, which you can use to summon emergency services to your exact location (and alert up to six loved ones), or contact the VehSmart Concierge Center for anything from directions to dinner reservations to roadside assistance. To summon emergency services, you hold the KeySmart button down for three seconds, which initiates a call to the VehSmart Concierge service. They call back and if you don't pick up the phone, they will send police to your location.
You can also use the KeySmart to locate a missing child or parent with Alzheimer's, or another form of dementia. For privacy you can turn the device off.
The integrated rechargeable battery lasts three and five days on one charge, depending on how often you use the service.
Available later this year for $300 (for the fob), plus a $11.95 per month subscription fee. They throw in 30 days of free service after a year's usage.