No doubt, cleaning bathtubs and doing other housework adds up to exercise. Now a new wearable exercise monitor promises to give you credit for that work, in addition to traditional forms of exercise such as running, walking, using an elliptical machine and bicycling.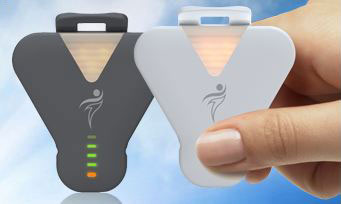 The NewYu Connected Fitness Monitor from Wellcore is a small motion sensor designed to be clipped to clothing somewhere along your torso––anywhere from your waist to your breast. Its proprietary, motion-detection technology enables it to identify specific body movements as you go about your business. This allows the monitor to distinguish among different forms of exercise and daily activities and more accurately tabulate how many calories you're burning, claims the company.
Paired with the NewYu monitor are a free app for Android phones and an online service. Through a Bluetooth connection, the monitor sends data to the app and site in real time about your activities and calorie expenditure. You can also sync through your PC.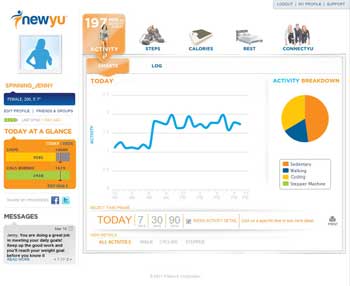 The NewYu online service lets you set fitness goals and track your progress with charts that show your activities and calorie burning in detail by the current day and past week, 30 days and 90 days. Offline, you can monitor your progress toward your fitness goals by checking the on the LED light bars on the monitor.
Through a partnership with CalorieKing, the NewYu site provides a database of tens of thousands of foods and lets you specify what you've eaten, so you also can compare your calorie burning to your calorie consumption. You can also connect with other users through ConnectYu to find workout partners, get workout or diet advice and share updates about your progress. You can also post your updates to Facebook and Twitter.
The NewYu Connected Fitness Monitor and Service will be available next month for $99.99 at BestBuy and Amazon and can be pre-ordered now at NewYu.com for shipment starting September 26, 2011.