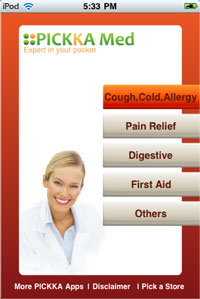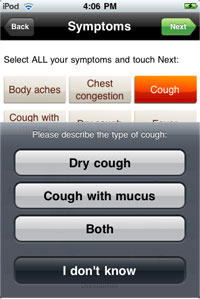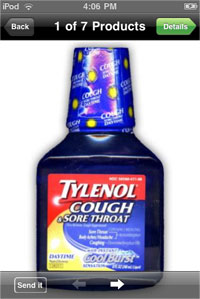 Right in sync with cold and flu season, a new free application for iPhone, Blackberry and Android mobile phones promises to find the best remedy for what ails you—by searching local pharmacy shelves and ferreting out appropriate over-the-counter (OTC) medicines based on your symptoms, age, allergies and other intervening medical conditions or illnesses.
Available starting today, PICKKA Med from Evincii features an easy-to-use search function, where you can choose from among a list of local stores identified by your phone's GPS function, then select from among broad categories of health areas, including "cough, cold, allergy," "pain relief," "digestive," "first aid," and others. Next, more on-screen lists prompt you to describe symptoms more specifically—such as whether a cough is dry or accompanied by, ahem, mucus—as well as identify known allergies and medical considerations, select an age group, and set optional preferences.
The software then returns a list of medications suggested to treat those symptoms—including each product's "drug facts" label and packaging image, to help identify it on a crowded shelf. In addition, a built-in e-mail function will send the results to you or your designated shopper.
All of the results are derived from a knowledge base of "FDA-approved, pharmacologically correct" treatments that have been reviewed by a board of certified pharmacists, Evincii says.
PICKKA Med covers nearly all national-brand OTC products sold in the U.S., as well as generic formulations offered by specific pharmacy and supermarket chains, including Walgreens, Safeway, Wal-Mart and Kroger.
And while those pharmacy chains sponsor the software, they don't influence its recommendations, Evincii says, noting one exception: Your choice of store will determine which medicines are listed in the results, based on the inventory known to be carried by that store.
PICKKA Med for the iPhone (and iPod Touch) is available now at Apple's iTunes App Store, and the Blackberry and Android versions may be downloaded from pickka.com.
Evincii is expected to soon announce additional health-and-wellness mobile-phone apps under the PICKKA brand name, covering food, vitamins, supplements and skin care.