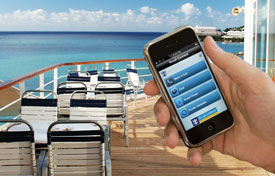 Love to take the family on a cruise, but are concerned about their safety aboard a huge ship? The Royal Caribbean cruise line has debuted Royal Connect, a new tool that helps parents keep tabs on their kids while onboard.
When children embark, they're issued a bracelet with an embedded RFID tag. Parents get a stripped down iPhone that tracks their kids' location and lets them stay in touch with onboard friends, make dinner reservations and check on cruise activities.
This service is available on Royal Caribbean International's Oasis of the Seas for $17.50 per phone, good for the duration of the cruise. While this new technology is obviously no excuse to give your kids the run of the ship, at least you can be sure they are where they're supposed to be at any given time. Kids can engage in age-appropriate activities with their peers, while parents can relax enough to enjoy some time together. Isn't that what makes a family vacation great?