Samsung's Galaxy S7 launch at Mobile World Congress in Barcelona just got a little more lifelike for home viewers: The company is planning to stream its event at 1PM ET on February 21, 2016 through a livestream on YouTube, through the Unpacked 360 View App for Android and iOS or with a VR headset with the Unpacked 360 View app from the Oculus store.
In addition to a 360-degree view, there will be four places to watch from: the auditorium, stage left, stage right and center stage. They're really going all out on the camera angles, and it's interesting that the viewer has more control over what she sees.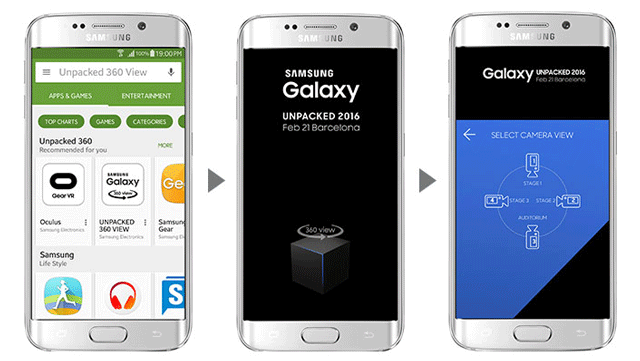 We're expecting the main event of Samsung Galaxy Unpacked 2016 to be the unveiling of Samsung's Galaxy S7 and S7 Edge flagship phones, which a TechCrunch source said will most likely be available for pre-order that day. While the S7 rumors haven't shown any major changes between generations, the phone might be waterproof and its design will feature a flatter camera bump. We'll be posting on the introductions following the event and sharing our hands on experience with the new products on February 22, so make sure you subscribe to the Techlicious YouTube Channel.
Samsung isn't the first company to launch a phone using VR — OnePlus recorded a VR video for their OnePlus 2 unveiling last July. This seems to be an easy way for the company to promote its $99 Samsung Gear VR viewer, as well as add a little buzz to a new product that most likely hasn't undergone a massive overhaul. It would certainly be interesting if Samsung announced a new addition to its VR viewer line, though.
If you want to learn more about VR, check out our guide to Getting Started with Google Cardboard. It's an easy way to get started without investing an expensive VR headset. Google Cardboard viewers start for as little as a few dollars.
[Image credit: Samsung]