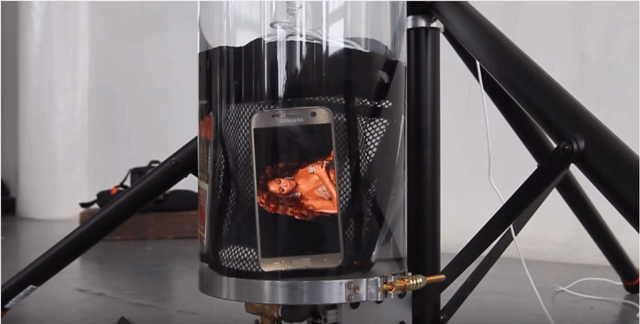 Samsung released their much anticipated S7 phone series over the weekend, and while some people headed to their local stores to buy the phone for their personal use, others, like the team at SquareTrade, picked the phones up to test their durability.
Device protection plan provider SquareTrade puts all of the new smartphones to the test with their breakability tests, dropping, dunking, bending and tumbling them to determine just how much pain they can take before they go to the great smartphone graveyard in the sky.
Samsung's S5 line was water resistant, but fans of the Galaxy series were disappointed when the S6 and S6 Edges weren't (no one wants a toilet to be the final resting place of a phone). Samsung brought back the coveted feature for the S7s, saying on their site, "It repels spills, splashes and even dunks without a bulky protective case." After being submerged five feet in SquareTrade's Deep Water Dunkbot for 30 minutes, the Galaxies still worked, but their audio became muffled and distorted. They did fare better than the iPhone 6s and 6s Plus, which either lost all audio and got water under the screen or completely died, respectively.
SquareTrade's tests also show that Samsung is still suffering from Bendgate Syndrome. The S7 edge cracked with 110 pounds of pressure and catastrophically failed at 170 pounds. The S7 could take 170 pounds, just like the iPhone 6s. The iPhone 6s Plus could take up to 180 pounds.
Samsung's phones were also prone to cracks. In the tumble test, both S7s "suffered significant damage" on their back faces. In the drop test, in which the phones are dropped on their corners from six feet, the S7 cracked after four falls and after seven, the S7 edge wasn't usable. On the facedown test, the S7's display cracked on the first fall, while the S7 edge cracked on the second. Apple's Ion-X glass got the best of Samsung's display, with the 6s surviving the tumble test and the 6s and 6s Plus being rated better on the corner drop tests. Below are SquareTrade's breakability ratings, with higher numbers suggesting easier breakability.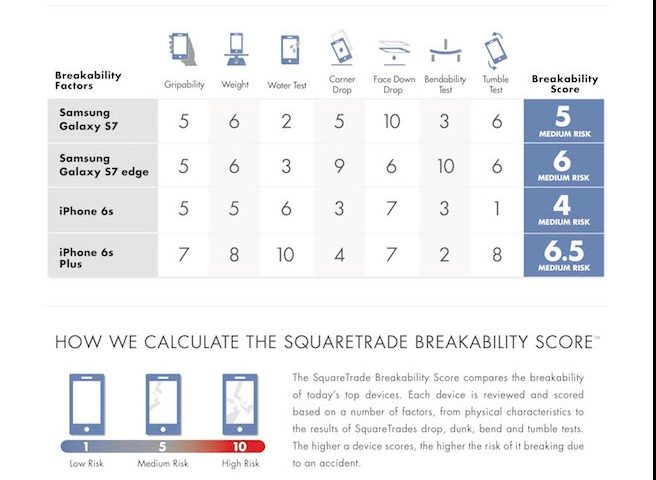 It's always really fun to watch these phones get put to the test, at least until it's your own phone. For that, you're going to need some quality insurance.
Check out the SquareTrade test video below:
[Samsung Galaxy S7 Dunk Test via SquareTrade]