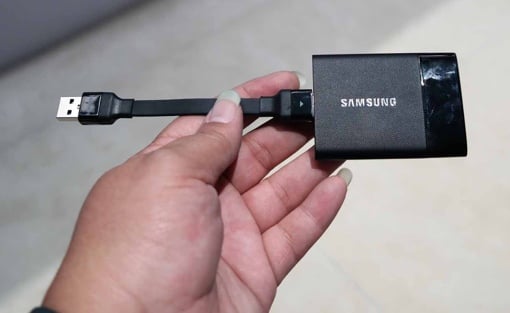 A pretty major milestone is about to hit the world of flash drives. South Korean electronics giant Samsung has unveiled its Portable SSD T1 at CES 2015, a beautifully designed USB 3.0 portable solid state drive with a record-breaking 1TB of storage space.
Yes, the Samsung Portable SSD T1 has a storage size usually reserved for external HDD drives. The key differentiators here are speed, size and sturdiness. The T1 achieves transfer speeds 3 to 7 times faster than external HDD disk drives (up to 450MB/sec). It can withstand four times the shock and 40 times the vibration than an external HDD, and is more temperature resistant. It also takes up a lot less physical space, measuring just 0.38" x 2.80" x 2.09".
Naturally, if you have a need to store 1 terabyte worth of data, you'll want to make sure it all stays safe. Access to the T1 is password protected. An AES 256-bit encryption algorithm further protects the stored data from falling into the wrong hands.
But before you race out to the stores to fill your arms with as many of these slick little drives as you can carry, know that the Samsung Portable SSD T1 doesn't come cheap. The drive is expected to retail for a whopping $600, putting it out of the reach of most average consumers – it's really aimed more towards professionals who might want to put together an extremely portable portfolio of video content or high-resolution images. For those with less extreme storage needs, more affordable 250GB ($180) and 500GB models will also be available.
The undeniably sexy Samsung Portable SSD T1 is expected to begin shipping later in January 2015, along with its two smaller cousins. To learn more, you can visit the Samsung website or watch the short promotional video below.
[Editor's note: Removed references to the T1 as a thumb drive. It is a solid state drive.]
[Image credit: K.T. Bradford for Techlicious]