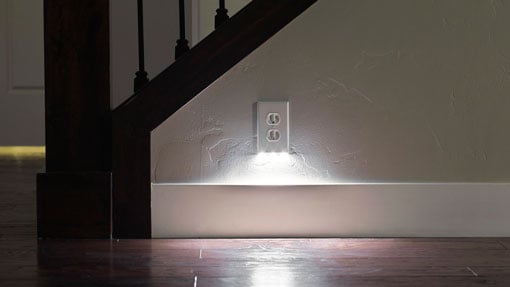 How many times have you stumbled in the dark on the way to the bathroom or kitchen in the middle of the night? Many people light their way with night lights in hallways, landings, kitchens, bathrooms — anywhere something could make you go bump in the night.
Most guidelights are conspicuous plug-in devices in fancy shapes, sizes and colors. Once you've plugged in a night light to your wall outlet, you'll be left with only one socket free at that outlet. Some designer night lights cover both sockets, rendering the outlet useless for other needs.
Now you can have the best of both worlds. The SnapPower Guidelight is a battery-free, wire-free LED night light that replaces your wall outlet's standard cover plate. It looks like an ordinary wall outlet during the day but turns into a source of illumination at night.
The SnapPower's built-in sensor automatically shuts off the LED light during the daytime and turns it back on after dark. This is no dim bulb. The LED light's brightness is 3 lumens, the usual brightness for standard night lights. The LED lights can last for more than 25 years and use less than 10 cents of energy annually.The LED lights can last for more than 25 years and use only less than 10 cents of energy annually.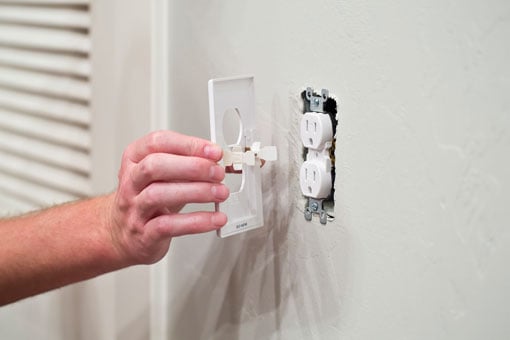 Installation is quick and easy. Turn off the main power to the outlet, unscrew the existing cover plate, snap the SnapPower Guidelight onto the outlet and screw the plate into place. No messy wires to deal with!
The SnapPower Guidelight gets power from the screws along the side of the outlet, so you don't have to plug it into the socket. That leaves both sockets free for use by other electrical devices.
Also, because the SnapPower doesn't stick out of the wall socket like a plug-in fixture does, you don't need to worry about little ones plucking it out and harming themselves.
A single SnapPower Guidelight cover plate costs $16.95 on Amazon, they are less expensive in packs of five. Available in white, light almond and ivory.
Night lights such as the SnapPower Guidelight help you see your way around your dark home at night. If you're outside, learn how to light up your nighttime run or walk.
[Image credit: SnapPower]