6 Ways to Light up Your Nighttime Run/Walk
Techlicious editors independently review products. To help support our mission, we may earn affiliate commissions from links contained on this page.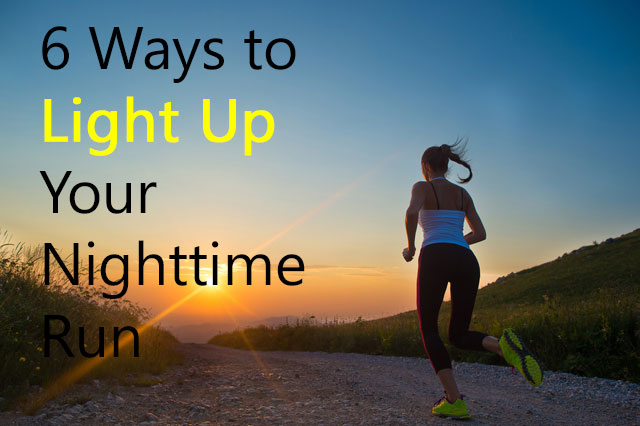 Summer is just around the corner. For a fitness fanatic like myself, that means it's time to stop running on the treadmill at the gym and time start running outside to enjoy the great weather. Personally, I prefer running at night after work when it starts cooling down a bit, but doing so can be dangerous without proper lighting.
If you live in an area with a lot of traffic, but not so many street lights, you'll want to bring your own illumination with you. That's why we put together this collection of 6 products for lighting up your runs. Whether you want to light up the path ahead of you or simply make it so drivers can see you running on dimly lit streets, you're sure to find something below that's perfect for you. Take a look!
---
Nathan Sports LightSpur
Light-up shoes aren't just for kids. The Nathan Sports LightSpur is a lightweight LED clip that securely attaches to your favorite running shoes. You can choose between steady light and an eye-catching strobe effect. LightSpur lasts for about 40 hours using a single, replaceable watch battery.
Nathan Sports LightSpurs are available in both black (with green light) and red (with red light). You can find yours on Amazon.com starting at $17.93 each.
---
Panther Vision PowerCap
I typically wear a baseball cap while running, but most do little to improve my visibility and safety. Not so with the Panther Vision LED PowerCap—it's a simple adjustable hat with 4 LEDs (48 lumens) built right into the visor. Two of the lights are pointed down at a 55-degree angle; the other two are pointed ahead so you can see where you're going (up to 42 feet). According to the folks at Panther Vision, four watch batteries deliver about 68 hours of light.
Panther Vision's PowerCaps are available in a wide range of colors and materials, including gray, pink, blue, orange and camo print. Different color LEDs are available as well. You can browse the full selection on Amazon.com; prices start around $14.
---
Knuckle Lights
If you like running outside with your dog, check out Knuckle Lights. Like the name suggests, Knuckle Lights comfortably fits over your knuckles via an adjustable strap, so you can use them with or without gloves. Each delivers 45 lumens worth of light on the highest setting while keeping your hands free for holding a leash. And because the lights are on your hands, it's easy to direct light exactly where you want and need it, about 10 feet ahead of where you are. You get 20+ hours of light out of 4 AAA batteries (two per Knuckle Light).
Knuckle Lights are available in blue, black and silver colors. A set of two is available on Amazon.com for $39.99.
---
Trainer by Gibson headphones
Whenever I'm running, I always bring a pair of headphones with me to help pump out the tunes. That's why I like the light-up Trainer headphones from famed guitar-maker Gibson. They feature a blinking light on the back of the headband, plus a secondary reflective strip for increased visibility. Plus there's a SafeSound mode that adjusts the sound, so you can better hear traffic and other potential hazards. You can control playback via buttons on the headphones themselves and, with Bluetooth built-in, there are no wires to get in the way of your swinging arms.
Trainer by Gibson is available in both white and black colors and is available on Amazon for $249.99.
---
GoMotion LiteBelt 100
Headlamps aren't for everyone—after all, they can be uncomfortable to wear and difficult to focus. That's no a problem with the GoMotion LiteBelt 100—its LEDs cast a 100-lumen beam that you can focus where you want it on the road or trail ahead; two flashing rear LED lights make it easy for others to see you. The adjustable belt is made of bright orange mesh for increased visibility and features zippered pockets for holding your keys or smartphone. There's even a pass through for your headphone cable—very smart.
The GoMotion LiteBelt 100 is available on Amazon.com for $45.43. Three AA Energizer batteries are included.
---
Athlights
Making yourself visible to drivers on the road is no problem with Athlights. They're tiny, super lightweight LEDs that clip anywhere on your clothing via powerful magnets. Put them on your shorts, on your shirt, on your socks, in the front or in the back—they go anywhere there's a square inch of fabric. The strobing LEDs can be seen from as far as 600 feet away, giving drivers plenty of time to see you and move out your way as they approach. Expect about 40 hours of battery life out of two CR927 watch batteries (included).
Athlights are sold in pairs of two and flash in red and white. You can find yours on Amazon.com for just $9.99; for maximum visibility you may want to combine multiple sets.
Image credits: Woman running at sunset via Shutterstock, Nathan Sports, Panther Vision, Knuckle Lights, Gibson, GoMotion, Athlights
Updated on 5/27/2016.
Discussion