Digital watches have used all kinds of electronic displays, including LCD, LED and even Kindle-like electronic ink screens, but the Phosphor Reveal is the first we've seen that creates digital numbers using moving parts – and what's more, those moving parts are Swarovski crystals. Fashion questions aside for the moment, you have to give them points for developing intriguing tiny tech.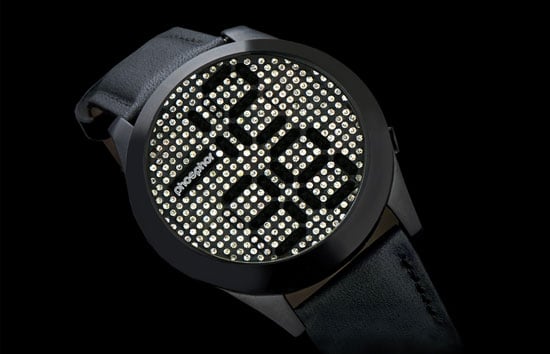 Phosphor calls its system Micro-Magnetic Mechanical Display technology. Basically the watch face consists of hundreds of crystals on spinning rotors – one side has a shiny crystal, the other a dark one. Whenever the time changes, a signal is sent to each "pixel," positioning it shiny side up for the background, dark side up to spell out the numbers. If you hold the watch to your ear, you can actually hear a faint clicking sound as the crystals move into place. To see the effect in action, visit the company website here.
There are men's and women's models in the lineup, starting at $199 on phosphorwatches.com, with color options for the crystals, bands and bezels. For the truly blinged out, you can even choose a bejeweled bezel. I find the look a bit much for a men's watch, but when I tried one on for size, several friends and family members really took a shine to the crystalline design. And there's certainly something to be said for having a guaranteed conversation-starter right on your wrist.