When buying tech gifts for your friends and family (or for your own wishlist!), you want to make sure you're making the right choice. We're here to make that process simple with our "Best of" Holiday Gift list.
Each of these products has won our prestigious "Techlicious Best" award as the best product in its category based on our expert review of its features, price and level of owner satisfaction. And where better to buy a "Techlicious Best" product than at Best Buy!
The Best eBook Reader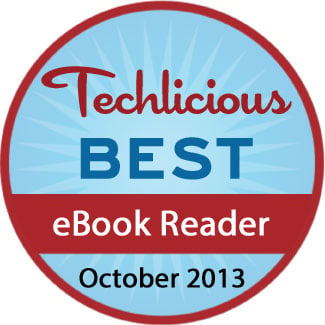 The Kindle Paperwhite eReader from Amazon tops today's eBook readers with the best features at the best price.
The Paperwhite's front light makes the screen glow nearly as brightly as a tablet's LCD but with none of the eyestrain, creating much deeper contrast that renders text easier to read. And thanks to a processor that's 25 percent more powerful than the last-gen Paperwhite, the new Paperwhite turns pages and navigates through menus and searches noticeably faster than other eBook readers.
The new Paperwhite retains the previous version's soft-coated enclosure, which makes it easy grip while reading one-handed.
The Paperwhite's advantages are extended by Amazon's network of features and services. For instance, when you order a book on Amazon's web site, you can have it beamed directly to your Kindle. With the new Kindle MatchBook service — if you've bought a new physical book from Amazon, you'll be able to buy the Kindle version for $2.99 or less.
In short, Kindle offers more reading and support pluses than any other eBook reader. And at only $119 for the ad-supported version, it delivers best value of the eBook bunch.
The Best TV Under $500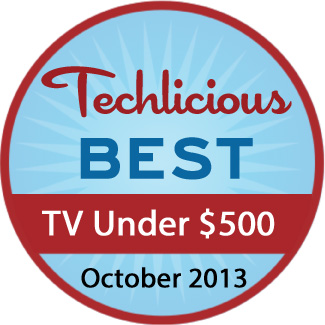 While it's incredible how inexpensive a large-screen TV can be these days, the pickings at $500 or less get pretty slim. Fortunately, the 51-inch Samsung PN51F4500 plasma comes through with excellent picture quality at an amazing price of $499.99.
Experts agree that plasma TVs deliver a substantially better picture than all but the very best LCD TVs. You notice the difference immediately in the dark parts of the picture, where most plasmas deliver deeper, darker, more realistic blacks and dark grays than most LCD sets can. Plasma TVs also typically offer a wider viewing angle and don't suffer from the motion lag that can cause distracting blur when you're watching sports.
While the PN51F4500 lacks Internet connectivity and smart TV features. You can add those functions from a Blu-ray player, video game console or outboard box, such as the Roku LT.
So for those who want the absolute best picture without spending a bundle, the Samsung PN51F4500 delivers.
The Best Shaver Under $100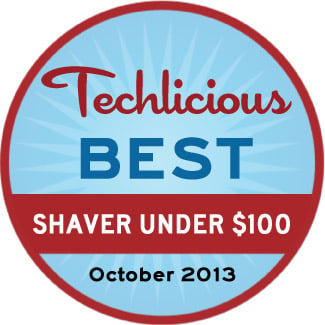 Top-of-the-line electric shavers for men commonly cost upwards of $200, even as much as $500, yet compromising on price doesn't have to mean courting disappointment. For those of us who are a little more cost-conscious, the Panasonic ES-LT41-K boasts features found on many higher-priced shavers, yet costs under $100.
In our hands-on review, we were impressed by its light weight, comfortable ergonomic design, and smooth (low-vibration) and quiet operation. The shaving head covers a large section of skin in a single stroke, and the pop-up long hair trimmer sits at an angle that makes it easy to trim sideburns.
Power consumption was very good, too. After about five minutes of shaving and trimming sideburns, the LCD indicated 90 percent of battery life remaining. And when we only had 10% charge left, the razor's battery fully charged in about an hour.
Whether for yourself or a gift, the Panasonic ES-LT41-K is our top pick.
The Best Small Tablet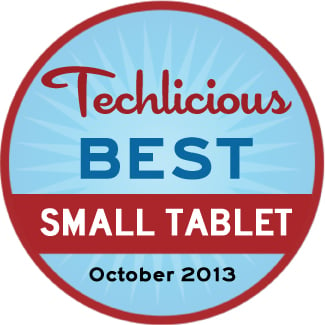 Tablets with 7- or 8-inch screens are easier to hold in one hand and to hold for long periods of time. They're easier to pull out and use in crowded situations and are more maneuverable for small hands.
In the past few months, we've tested and reviewed many 7- and 8-inch tablets. However, the best of them comes right from the source of Android itself. The second-generation Google Nexus 7.
This is the only 7-inch tablet with a full HD 1920 x 1200 screen. This translates into a high 323ppi pixel density, keeping graphics sharp and fonts crisp even when they're small.
And the Nexus 7's powerful hardware can handle complex apps, multitasking and high-performance games without choking. Even simple things like navigating the operating system or flipping through pictures are impressive on the Nexus. If you like playing graphics-heavy games, you won't have to worry about stuttering or unresponsiveness. When watching HD video, you won't see dropped frames.
The Nexus 7 is available in three configurations:
$229 - 16GB internal memory, Wi-Fi only
$270 - 32GB of internal memory, Wi-Fi only
$349 - 32GB of internal memory, Wi-Fi and 4G LTE that connects to AT&T, T-Mobile and Verizon Wireless LTE and HSPA+ networks
The Best Bluetooth In-Ear Headphones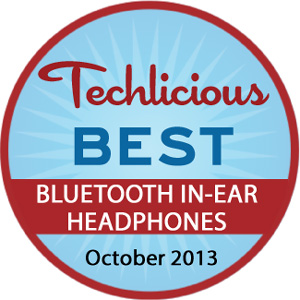 They look like a contraption imagined by Thomas Edison and designed by Rube Goldberg. But even with their seeming ergonomic awkwardness, the LG Tone+ HBS730 earphones are, in our opinion, the best stereo wireless Bluetooth earphones.
With a combination of long battery life, music and voice sound quality, a multitude of controls and reasonable price ($80), the LG Tone+ HBS730 earphones give us a lot to like.
The horseshoe-shaped LG Tone+ is totally flexible, with a round rubber connecting cable connecting two bulbous ends. You wear the Tone+ around your neck so that the bulbous ends rest on your clavicle. But don't worry — the whole contraption weighs just 1.13 ounces, probably less than a string of faux pearls. The actual earbuds are attached to the collar by thin cables, magnetically nestled in cups at the tips. When they're in our ears, the buds are so light we hardly feel them.
The design of the Tone+ means you can have a larger and therefore longer lasting battery — 10 hours of music play and 15 hours of talk time, nearly twice as much as any other competing Bluetooth earphones.
With sound quality, the LG falls in the middle of the good to great range, offering solid volume, crisp highs and decent bass. But where the Tone+ excels far above all other Bluetooth in-ear headphones is phone call quality. In our review, we were impressed by how much volume we got, without distortion.
And that's why the LG Tone+ HBS730 earphones get our nod.
Best Soundbar under $300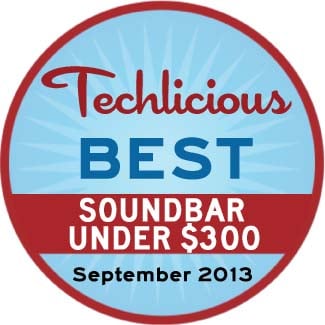 Today's inch-thick TVs simply have no room for engineers to put in good speakers. If you want good sound when you're watching TV, you've got to add an external audio system.
Fortunately, there's an easy fix: the soundbar. A soundbar is a long, slim speaker with amplifiers and surround-sound processing built in, usually accompanied by a wireless subwoofer to pump up the bass. Place a soundbar above, below or in front of your TV, and the subwoofer wherever you can fit it, then plug in a cable or two, and you get a nearly-instant sonic upgrade.
We've tested dozens of soundbars, including several of the very latest models. Our pick? The Vizio S4221w-C4.
What's special about this soundbar is the sound. We were blown away by the sound quality it delivers for $249. Dialogue in movies and TV shows sounds extremely clear and natural, while the subwoofer delivers surprisingly powerful and punchy bass. The overall experience was very much like having a full surround-sound system.
And with Bluetooth wireless, you can even stream sound from your smartphone, tablet or computer.