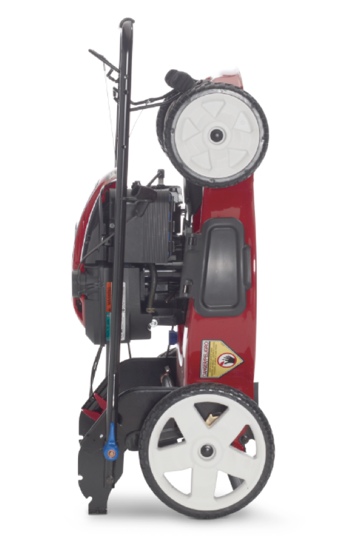 As I like to remind you from time to time, we're not just about smartphones and beeping gizmos – we love any kind of technological innovation that saves time or solves a problem. And if you're anything like me, a cluttered garage or lawn storage space is a fairly pervasive problem.
Toro's new Recycler with SmartStow is an interesting new solution for those of us who are perpetually disorganized (or just need a little more space). The walking mower folds so it can be stored standing upright. And while that may not sound impressive, it's actually quite the feat – there's some high-tech Briggs & Stratton motor tech involved keeping all the corrosive and flammable fluids from leaking or settling in the wrong places.
According to Toro, the new design reduces mower storage space by "up to 70%." And while push mowers can be heavy, Toro says that "tipping the mower upright is no problem."
The Toro Recycler with SmartStow will be available in time for spring mowing season at the Home Depot or direct through ToroDealer.com. The MSRP is $349.