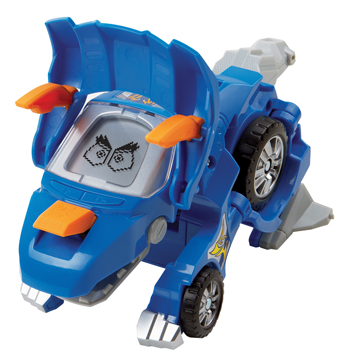 By combining dinosaurs with vehicles, VTech hits it out of the park with their new innovative boy toy. Geared to 4-7 year olds, Switch & Go Dinos have been available exclusively on Amazon for only a couple of weeks and are already popular, in part because of their 2-in-1 play pattern: transforming back and forth between a dinosaur and a vehicle in a few simple steps.
Each toy in the line of seven collectibles features an LCD screen that animates dinosaur eyes in dinosaur mode, and driver faces when in vehicle mode. There's more than 50 cool dinosaur and vehicle sound effects and even educational dinosaur facts.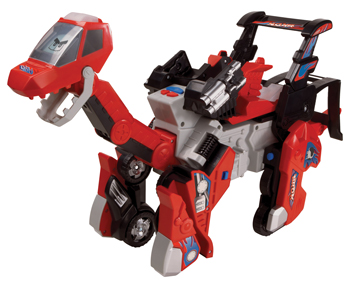 A quartet of starter toys are available now on Amazon.com
for a suggested retail price of $15.99: Sliver the T-Rex, T-Don the Pteranodon, Tonn the Stegosaurus and Horns the Triceratops. The full line of seven Switch & Go Dinos will be available in stores Fall 2012, including Brok the Brachiosaurus ($49.99) who doubles as a car carrier, Span the Spinosaurus ($29.99) who turns into a plane, and Attila the Ankylosaurus ($24.99) transforms into a construction vehicle.