Your flat-panel HDTV looks lovely hanging on your wall, like some downtown museum video-art installation—except for one thing: that gunky mess of cables and boxes it's tethered to that comprises the brains of your home-entertainment system.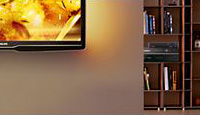 You can finally finish your A/V feng shui thanks to a new technology—wireless HDMI. It's just what it sounds like: instead of a cable, the HDTV signal and digital surround sound is streamed wirelessly from your A/V gear to your HDTV. Not only does your HDMI cable disappear, but your entire home entertainment center can now be moved out-of-sight to a closet or even another room.
You can buy a wireless HD kit today—Gefen Wireless HDMI Extender ($1,000), Philips Wireless HDTV Link SWW1800 ($800) or Monster Cable Wireless Digital Express HD ($999 - available in April)—to make your current HD rig wireless. Netgear also plans to have a product on the market soon. Or you can wait a couple of months for a new wireless-capable HDTV.
Unfortunately, there are two competing wireless HD solutions: Wireless HD (WiHD) and Wireless Home Digital Interface (WHDI). Both require a transceiver box that transmits the signal from your HD gear or A/V receiver.
Late last year, Sony, LG and Panasonic all started selling sets equipped with WiHD and included the transceiver. Vizio will soon sell LCD HDTVs embedded with WiHD technology.
WHDI takes off this spring, with LG introducing 26 WHDI-capable models in a variety of sizes—in LED LCD, standard LCD and plasma. While the sets are equipped with WHDI capabilities, you'll still have to buy an approximately $400 wireless connection kit, which includes a wireless dongle for the HDTV and a transceiver box. Several other manufacturers also plan on selling WHDI-equipped sets later this year.
WiHD and WHDI use completely different technologies to accomplish their wireless HDMI connections. WiHD is a "single room" system, using the recently unlicensed 60 GHz band to transmit its signal roughly 30 feet.
WHDI doesn't want to just connect your AV gear to your HDTV—it strives to connect all your WHDI-equipped devices (including PCs, digital cameras or camcorders, phones, etc.) to any HDTV in your home. Rather than be restricted to a single room, WHDI operates in the more flexible 5 GHz band, has a range of around 100 feet and can transmit through walls, vastly expanding equipment placement flexibility.
Unfortunately, both WiHD and WHDI mimic the HDMI v1.3 specification, meaning neither can currently handle HD 3D TV. (And none of the WHDI-enabled sets are 3D capable anyways.) So while it's unlikely you'll be streaming 3D HDMI wirelessly before the end of this year, at least you can get rid of that dangling cable.