We may earn commissions when you buy from links on our site. Why you can trust us.
How to Choose the Right Cell Phone Service for Your Child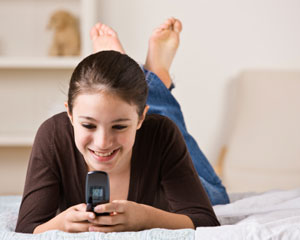 Selecting a cell phone service for your child is a bit more complicated than choosing one for yourself. Cost is still important, of course, and both prepaid plans or adding a second line can work out to be a cost effective way of keeping your kids in touch. But parents should strongly consider what parental controls are available with each type of service before making a decision.
Do you want to ensure your child can reach you even if he or she has gone over the allotted number of minutes? Are you interested in making sure your child isn't texting under the covers until 2:00 AM? Or do you have concerns about your child encountering mature content? You can do all of these things with parental controls when you set up a second line on your account, but not with a prepaid phone.
Costs: Prepaid vs. Second Line
Your first instinct may be to go pre-paid—it is the best way to ensure your extra-chatty teenager doesn't give you a nasty surprise at the end of the month by going over their minutes. However, it may cost less to add a line to your existing account, depending on how your child will use the phone.
Take this example from AT&T using their lowest cost plans:
AT&T 550 Family (if you assign the extra 100 minutes you get when moving from the 450 minute individual plan)
What you get: $10 for 100 minutes per month, $10 per month for the second line
Best for: Kids who use all their minutes and want the flexibility of using the phone any time
AT&T $1 Mobile to Mobile (flat $0.10 rate for calls, unlimited calls to AT&T mobile customers)
What you get: $10 for 100 minutes, plus $1 for every day you use the phone
Best for: Kids who talk occasionally
AT&T Simple Plan (flat $0.25 rate for calls)
What you get: $25 for 100 minutes
Best for: Kids who need an emergency-only phone
Pay special attention to the expiration dates on prepaid cards. Some expire in as little 30 days, and any unused minutes will be lost.
So compare this chart of prepaid daily rates from AT&T, Verizon and T-Mobile (Sprint doesn't offer daily plans) with your carrier's family plan rates to see what makes sense (AT&T, Sprint, T-Mobile, Verizon).
Prepaid Calling Plans

Carrier
Plan
Daily Access Fee
Per Minute Rate
Text Message Rate
Mobile to Mobile
Within Carrier
AT&T
$3 Unlimited Calling
$3
Unlimited
$0.20 send/ $0.20 receive
Unlimited
AT&T
$1 Unlimited Calling
$1
$0.10
$0.20 send/ $0.20 receive
Unlimited
AT&T
$0.25 Simple Plan
None
$0.25
$0.20 send/ $0.20 receive
$0.25
T-Mobile
Pay by the Day
$1
$0.10, unlimited nights
$0.10 send/ $0.05 receive

Unlimited

T-Mobile
Pay as You Go
None
$0.10-$0.30
$0.10 send/ $0.05 receive
$0.10-$0.30
Verizon
$3.99
$3.99
Unlimited
Unlimited
Unlimited
Verizon
$1.99
$1.99
$0.05, unlimited nights and weekends
$0.05 send/ $0.05 receive
Unlimited
Verizon
$0.99
$0.99
$0.10
$0.10 send/ $0.10 receive
Unlimited
Verizon
Prepaid Basic
None
$0.25
$0.20 send/ $0.20 receive
$0.25
Parental Controls for Second Lines
A huge benefit of adding a second line for your child on your account is that you can take control of how and when your child uses his or her phone. Most carriers let you cap the number of minutes, messages and entertainment downloads. Plus, restricting the days and the time of day the phone can be used can help cut down on costs while keeping your child focused on schoolwork.
Parental controls also provide a measure of safety for your child. You can stop bullies from contacting your child by blocking their calls and texts; ensure that your child isn't exposed to mature content in online stores or while browsing the Internet; and even do a quick location check to ensure your latch-key kid has arrived safely home.
Control isn't free. Most of these parental control features come at a price of $5 per month and an additional fee for location tracking. Even if you don't subscribe initially, it's good to know what options are available should the need arise.
Keeping Track of Your Kids
Of the four major carriers we looked at, three let you track the actual location of your child: AT&T, Sprint and Verizon. Verizon's Chaperone service and Sprint's Family Locator use GPS to pinpoint your child's location (which means you need a GPS-enabled phone), and even let you set up zones where your child is allowed to go—giving you an automatic alert (to either your cell phone or computer) if they leave that zone. AT&T's FamilyMap service will use GPS, if it's available, or triangulation based on the location of cell phone tower. The latter isn't quite as accurate, but works better indoors.
Talk Time
T-Mobile and Verizon let you put a cap on minutes. And AT&T, T-Mobile and Verizon let you limit phone use to specific times or days—keeping your child focused on school and other important activities. Of course, your child can still make 911 calls to emergency services at any time.
Text Messaging
While text messaging is all the rage with kids (as well as adults), there a few good reasons for restricting this kind of communication. For starters, it can be a terrific time waster. You can protect your child from unwanted messages with number blocking. And, if you don't get a plan with unlimited text messaging or a message plan, the costs can really add up. AT&T, T-Mobile and Verizon let you put a cap on the number of messages and Sprint lets you block the messaging feature. All let you block texts from specific numbers.
Entertainment
Entertainment on a mobile phone can be anything from games to music to ring tones to video. Downloading new content to a phone can cost extra on an a la carte or pay-as-you-go service plan, so again, you need to put a cap on things, or establish limits with your child. While Verizon, AT&T and T-Mobile make a big deal out of their entertainment offerings, they will let you set a spending cap. Sprint only allows you to shut this feature off. All have content filters that prevent your child from viewing mature content.
Parental Controls by Carrier

AT&T Parental Controls
Sprint Parental Controls
T-Mobile Family Allowances
Verizon Usage Controls
Cost
$4.99 per month
Free
$4.99 per month
$4.99 per month
Child Locator Service
$9.99 per month for 2 people
$5 per month
Not Available
$9.99 per month
Talk Time Cap
No
No
Yes
Yes
Texting Cap
Yes
Block only
Yes
Yes
Downloadable Purchases
Yes
Block only
Yes
Yes
Content Filter
Yes
Yes
Unlimited
Unlimited
Time/Day Control
Yes, just outbound activity
No
Yes
Yes
Call Control
Yes
Yes
Yes, limit of 10 always allowed and 10 blocked numbers
Yes, limit of 20 blocked numbers
---
Discussion