The Best Vacuum Cleaners
Techlicious editors independently review products. To help support our mission, we may earn affiliate commissions from links contained on this page.
Picking a vacuum cleaner requires more than just considering its durability and suction capabilities and finding a price that matches your budget. A vacuum cleaner is very much an investment.
You'll be relying on it not just to help with your everyday cleaning needs, but to be efficient enough to make your job easier. So it has to be designed — whether upright or canister, bagged or bagless — to meet your preferences and needs. And, of course, it should be worth the price, which means a few additional special features wouldn't hurt.
Choosing the right type: upright vs. canister
Choosing the right type of vacuum cleaner is essential. When deciding which is best for you, consider what you'll need it for, what type of flooring or floor covering you have, and how much space you'll be vacuuming, as well as how much space you have for storage, the cleaner's ease of use, and even how much time you'll be spending vacuuming on a regular basis.
While there are several types available — full-size vacuums, stick vacuums, handhelds, robotic and central vacuums — we're focusing here on the full-sized ones, of which there are two kinds: upright and canister.
Upright vacuum cleaners: These are generally more affordable, easily stored because of their close-packed design, and able to clean carpets better. Because an upright's dust compartment and motor are built into its body, however, it's typically heavier, which can make it harder to handle when you're doing the cleaning. Additionally, they're usually noisier than the canister models.
Canister vacuum cleaners: On the other hand, canister vacuum cleaners are great for cleaning bare floors and upholstery. They also tend to be quieter than uprights, and because the motor and dust compartment is separated in a canister, the handle/cleaner can get into harder-to-reach places and is lighter to steer and operate. The biggest disadvantage of canisters is that they're a tad trickier to store because of all their individual parts.
Choosing the right type: bagged vs. bagless
Deciding whether to go bagged or bagless should also be a key factor when purchasing a vacuum cleaner. While some models use the traditional replaceable dust bags, many take the modern, less-wasteful approach and forgo the bags altogether.
Which is better? Each one has its advantages and disadvantages, and again, it all depends on your needs.
Bagged. Models that use dirt-trapping bags generally tend to hold more dirt, so you can get more cleaning done without having to empty the dirt compartment as often. In addition, emptying the compartment is less messy, simply because all that dirt is contained in the bag. However, you do have to deal with the added cost of purchasing new bags and the added chore of replacing full ones.
Bagless. Bagless vacuum cleaners are more convenient; you don't have to replace bags or constantly buy a new pack. Emptying a compartment usually only takes a press of a button, which pops a door open and releases the dirt. And these compartments are usually clear, so it's easy to see when they're full and need emptying. But you also have to deal with the fact that clearing out the contents tend to be messier and more frequent.
HEPA filtration
HEPA (High-Efficiency Particulate Air) filtration directs air through a mesh filter designed to trap allergens, dust mites, and pet hair. HEPA filters are often found in air purifiers, but many vacuum cleaners come with them as well, allowing you to keep your home free of more than just dust.
Sealed systems, which come in both upright and canister models, greatly reduce the number of particles that can cause allergies or asthma by capturing them and keeping them confined in the dust compartment. These systems are especially useful for carpeted areas where allergens are often trapped within the fibers.
If allergies or asthma are a major concern in your household, opting for a sealed HEPA filtration model will help you maintain a cleaner, healthier home environment.
Additional cleaning tools
Another consideration for choosing the right vacuum cleaner for your home is the set of attachments it comes with. Typical accessories include a narrow crevice tool that can get into tiny spaces and an upholstery brush to suck dust and debris from couches, beds and even curtains.
Consider other tools that might prove useful to your cleaning routine, too. Some models come or are compatible with accessories such as dusting brushes, a crevice tools, deep-cleaning brushes and cabinet and radiator brushes.
Some models come with an eight-piece attachment kit, some with five, and others with three. You might not want an eight-piece set; it depends on your cleaning needs.
Top vacuum cleaners
Bearing in mind all the considerations above, here are our top picks for vacuum cleaners, all of which are highly rated by reviewers and consumers.
Best bagged upright vacuum: Kenmore Elite 31150 pet-friendly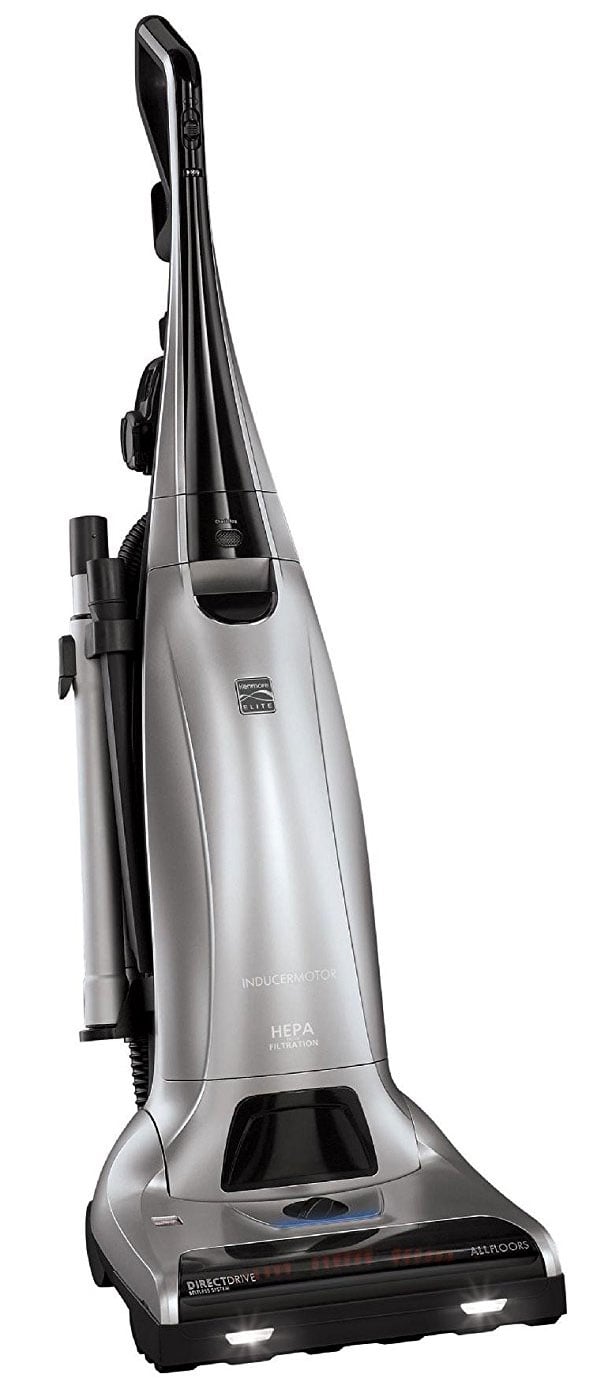 When it comes to household appliances, Kenmore has proven to be an excellent brand time and time again. Case in point: the Kenmore Elite 31150 pet-friendly upright vacuum cleaner. This bagged model has a two-motor system that offers more suction and air power, a 35-foot cord to give you farther reach, a dirt sensor that essentially lets you know when there's dirt present and when that area has been cleaned, and LED headlights for visibility.
It also boasts a five-position height adjustment for different surfaces. More importantly for households where allergy or asthma is a major concern, it uses a HEPA filtration system as well as HEPA-certified vacuum bags: That's a two-fold system to help keep your home environment free of allergens.
Moreover, it can help you manage pet dander with its small yet effective Pet Handi-Mate brush, which easily sucks away all that pesky pet hair. Like most upright models, it's a bit on the heavy side at 20 pounds, but that's a small price to pay for its suction power and sleek design.
Other accessories include the dust and crevice tool combo.
Price: $249 on Amazon (as of 5/11/2018)

Best bagless upright vacuum: Shark Rotator Professional Lift-Away (NV501)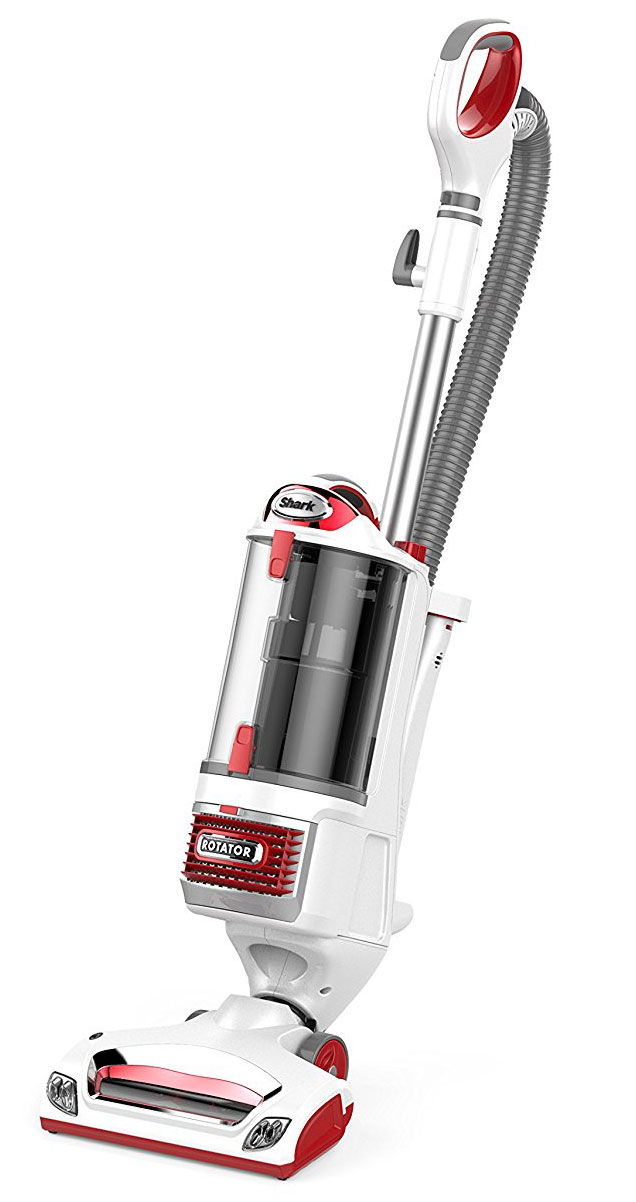 Among SharkNinja's upright vacuum's great qualities are its maneuverability — thanks to its swivel steering, lightweight design at 15.5 pounds, and a more compact nozzle, giving you ease of use and access to places you might not reach with typical upright models. You might say it has all the convenience of a stick vacuum, with all the power of a proper upright model.
To trap 99.9% of the allergens in the compartment, the vacuum also boasts a two-tiered filtration system comprising an anti-allergen seal technology and a HEPA filter that's washable. Plus, it includes a premium pet power brush to solve your pet hair and debris problems, and LED headlights for visibility.
What we love most about this model, however, is its two-in-one design. This upright can turn into a portable, lift-away pod with the simple press of a button, giving you a loftier reach. We also like the fact that it has an extra-large-capacity dust compartment, so you won't have to empty it as often. That's a lot of features for less than $200.
A straight suction nozzle, a dusting brush, and a 12-inch crevice tool are among its accessories.
Price: $190 on Amazon (as of 5/11/2018)

Best bagged
canister vacuum: Miele compact C2 Electro+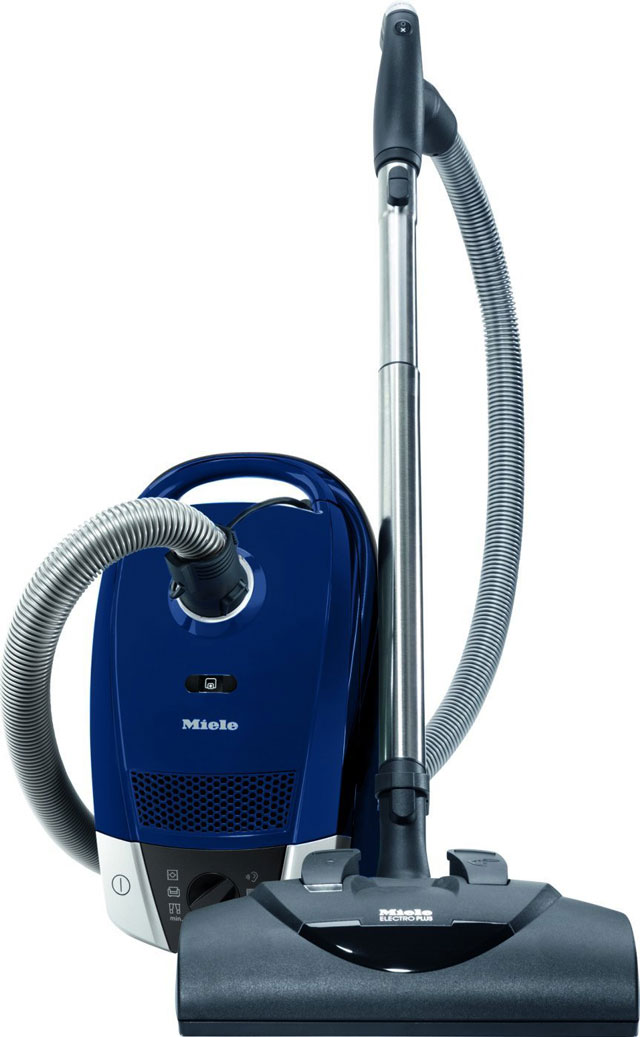 Miele's C2 Electro+ model boasts a powerful suction designed to give it cleaning flexibility. Thanks to its 1,200-watt vortex motor and Miele's SEB 228 floor nozzle (with shorter and stiffer brushes), this canister vacuum offers a boost for your high-pile carpet-cleaning needs as well as more than enough power to take care of your bare floors and low-to-medium-pile carpeted areas.
With its six different power settings and a five-position height adjustment, the Miele helps ensure that you're using the right amount of suction and force for each surface.
It'll also help keep your home allergen-free, with the brand's completely sealed AirClean system, which promises to capture and lock in 99.9% of harmful particles with its HEPA filter. Best of all, it's easy to use — you can effortlessly switch the wand's height position and the lightweight canister rolls easily as you move along any hard surface.
Other features we love are its relatively compact size and quiet motor, though it does weigh in at a fairly heavy 18.7 pounds. Accessories include a dusting brush, an upholstery tool, and a crevice tool.
Price: $599 on Amazon (as of 5/11/2018)

Best bagless
canister vacuum: Miele Blizzard CX1 cat & dog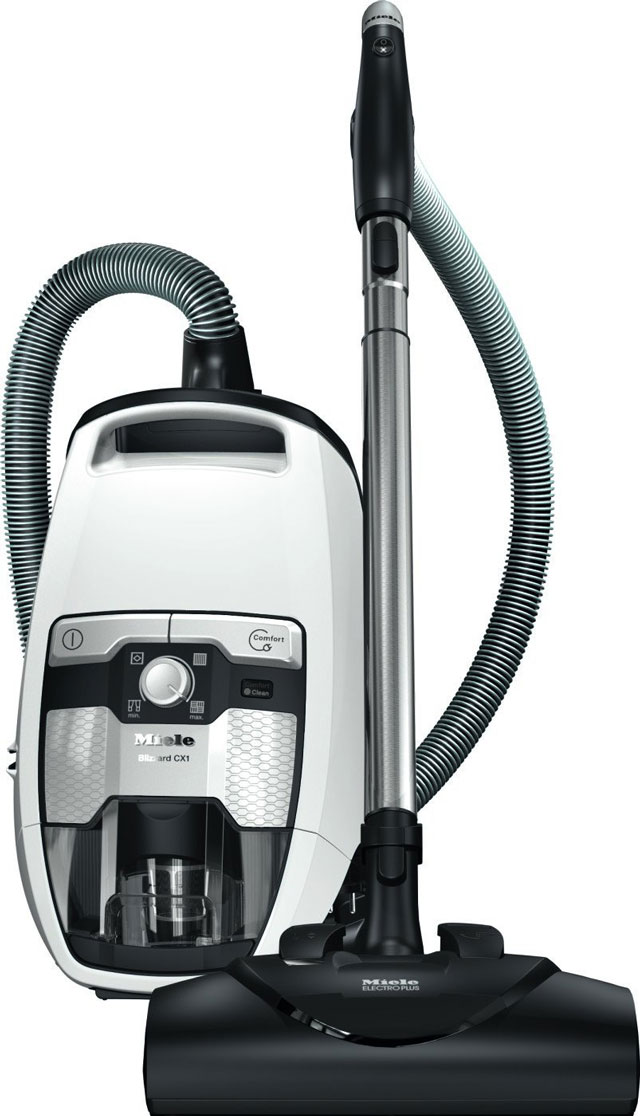 This bagless model boasts a 1,100-watt vortex motor and is designed for both bare floors and low-to-high-pile carpets. The Blizzard CX1 is designed specifically to help you manage pet dander, making it an ideal option for homes with animal companions. The vacuum comes with a handheld mini TurboBrush and a HEPA lifetime filter.
What we love most about this model, however, might be its hygienic emptying system. Unlike other bagless models whose dirt compartment's emptying process often involves a cloud of dust getting released back into your home, this one has a Gore CleanStream fine-dust filter that directs fine dust into a different sealed container, separating it from coarser and larger debris —so you don't have to deal with dust clouds every time you empty the main compartment.
Among the Blizzard CX1's many other great features are its four wheels that move in every direction, making the canister easily maneuverable on carpets, and the fact that it's super-quiet.
Additional attachments include the crevice tool, dusting brush, and upholstery tool. The Blizzard CX1 weighs in at 19 pounds.
Price: $899 on Amazon (as of 5/11/2018)

[Image credits: Miele, Kenmore/Sears, SharkNinja]
Discussion