8 Functional & Fashionable iPhone Wallet Cases
Techlicious editors independently review products. To help support our mission, we may earn affiliate commissions from links contained on this page.
If you're looking for a way to minimize what you carry and stay organized Marie Kondo style, an iPhone wallet case a great utilitarian iPhone accessory. These multitasking iPhone wallet cases are exactly what they sound like: smartphone cases that double as a wallet, with space for your IDs, credit cards, and some cash. From busy moms to the active nomad, there's a great wallet case for every iPhone user. These are our top picks of attractive, highly rated iPhone wallet cases.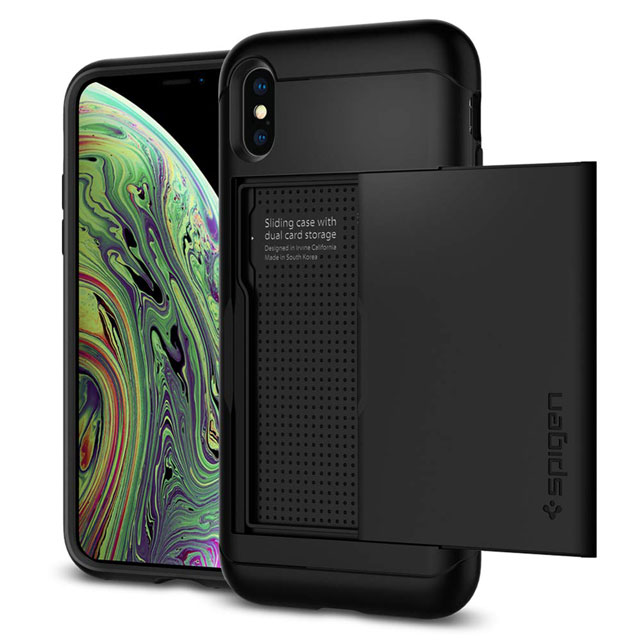 For the Commuter: Spigen Slim Armor CS
Public commuting in big cities requires a certain level of awareness to ensure that your valuables are safe from pickpockets, and Spigen helps you with its Slim Armor CS wallet case. With a minimalist design and security in mind, this case not only keeps your credit cards and cash tucked away — it keeps them hidden in plain sight using a compartment in the back. This compartment has space for two credit cards and some cash with a sliding door that stays in place when closed but easily slides open when you need access to your cards.

The case's dual-layer design gives it an air cushion for shock absorption and raised bezels around the back camera protect it from accidental scratches. Like most good cases, it's compatible with wireless charging — though you'd have to remove your cards to do so. Even more amazing, despite this case's hidden compartment and shock absorption, it's fairly thin, making the whole thing easy to carry around.

Price: $34.99 on Spiegen, prices starting at $15.99 on Amazon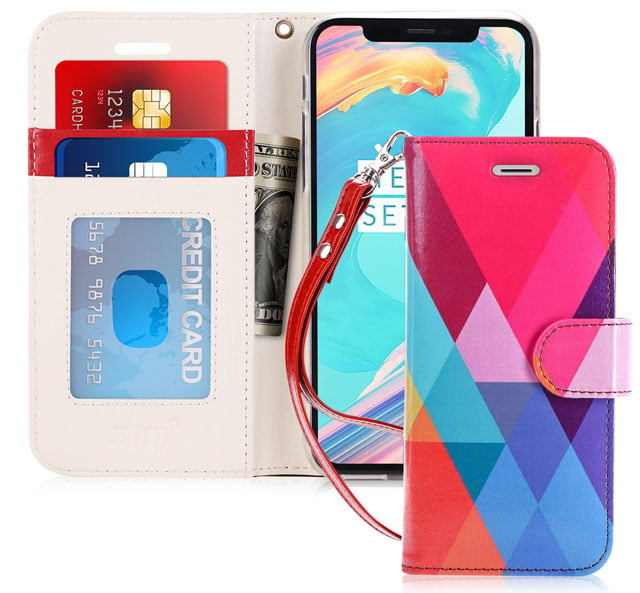 For Teens: FYY Luxury PU Wallet Case
At $14, your teens can afford to get the FYY Luxury PU Leather Wallet Case on their own. Plus they will appreciate the more than 30 color options, including rainbow and patterned styles. The wallet can hold up to four cards with a credit card slot and an ID card slot with a clear front, plus a compartment for cash and receipts. And since teens cannot survive without their YouTube videos and video chats, the case folds into a kickstand for convenience.

Moms and dads, on the other hand, will appreciate its more serious features, the biggest of which is its RFID shielding technology. This case boasts a blocking material to prevent RFID readers from obtaining information the cards inside it, giving teens that extra protection from theft. It's also 100% handmade and made of premium leather, so it doesn't look or feel cheap. Plus, it comes with a hand strap to prevent drops, falls and theft.

Price: $13.99 on FYYStore, check price on Amazon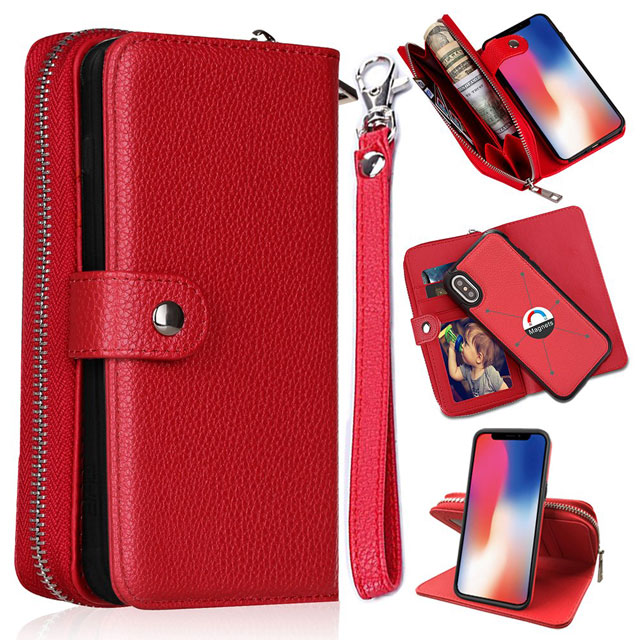 For the Busy Mom: Caseowl Magnetic Detachable Wallet Case
Moms can even score something cheaper with CASEOWL's very affordable yet super functional Magnetic Detachable Wallet Case, which will only set them back $20. It's actually more accurately a proper wallet with an iPhone case attached to it, making it perfect for moms who are juggling a few things at a time and need to carry a lot. It's roomy enough to fit IDs and emergency cards, credit cards, debit cards, receipts, business cards, photos and more.
It isn't the most compact, but space is the priority with this iPhone wallet case. A large zippered three-section compartment has space for all of your cards, with two credit card slots and a clear ID slot, while the other two compartments could hold cash or small odds and ends like earbuds. The iPhone case is detachable, with a magnetic back so you can take it off and put it back in place effortlessly. And if that isn't enough, the case itself boasts drop protection and a removable wrist strap for easy carrying when it isn't tucked in your purse.
Price: $19.99 on Case-owl, check price on Amazon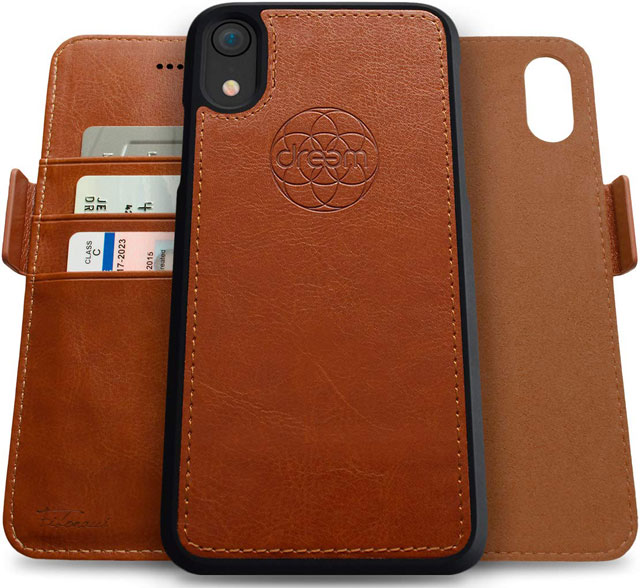 For the Commuter: Dreem Fibonacci 2-in-1 Wallet Case
Is it a regular case? Is it a wallet case? Is it a stand? Dreem's super popular Fibonacci 2-in-1 wallet case can't seem to make up its mind, and that's a good thing. This multi-purpose case is what you want in your pocket when you're living a multitasking life. That makes it ideal for bloggers, working nomads, and anyone else who is always on the go and doing several things at a time.
The case itself is magnetic, which is basically the secret sauce to this whole rig. You can easily pop your phone off the wallet and prop it up horizontally or vertically against the wallet for watching videos and making business calls, while the magnetic back keeps it stable. You can also detach it from the wallet to charge wirelessly or attach it to a magnetic pop socket or car mount. When you're done, simply attach the case back on the wallet and tuck it away with the self-closing SafeMag clasp.
The wallet is made with vegan leather and comes in nine different colors. It's roomy, with slots for three credit cards plus a pocket for cash. It's also compatible with Apple Pay so whether you're working at a coffee shop or shopping for your next product post, you're all good to go.
Price: $39.99, check price on Amazon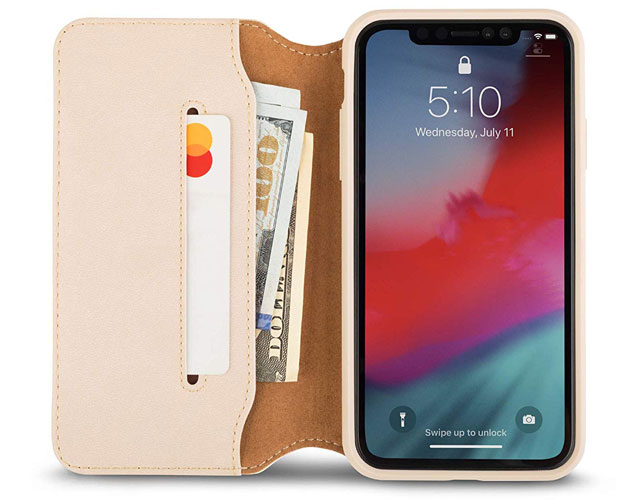 For the Eco-friendly: Moshi Overture Wallet Case
Moshi's Overture Case has something for everyone. It features military-grade drop protection on all of its sides and corners, as well as a weatherproofed exterior, reinforced with a shatterproof polycarbonate frame, and soft Terahedron microfiber lining keeps your phone snug inside. (And it comes with a washable cleaning pad to help with any unfortunate smudges.) That level of safety makes this case ideal for any traveler.
But its features go beyond security. It also has a 2-card holder with enough space for cash and receipts, which is just enough for most of us. It works with wireless charging, which everyone will like. And it comes in three different colors for fashion lovers. Best of all, its exterior is made of vegan leather, so those fond of that high-quality leather feel can enjoy using it guilt-free — making it a great case for the environmentally conscious.
Price: $44.95 on Moshi, check price on Amazon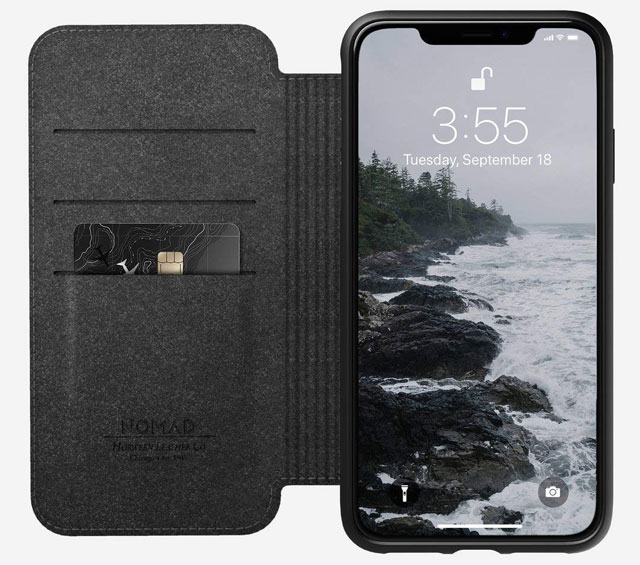 For the Traveler: Nomad Folio Case
Nomad's wallet cases are rugged enough to handle anything you throw at them. They're built with high-grade polycarbonate and a raised TPE bumper that provide the ultimate protection from high falls (up to six feet) and heavy hits. It's exactly what every traveler needs, whether they're living it up in New York City while on an urban escape or roughing it in the wilderness on a backpacking trip.

It's also stylish, made with rustic brown or black, vegetable-tanned Horween leather that only looks better with time. The slim design also makes it easy to carry around with you wherever you might find yourself wandering. The wallet boasts slots for three cards and cash, which is essentially all you need when you're traveling. It's compatible with wireless charging for convenience, whether you're home or away.

A screen protector isn't included, which makes its $60 price tag seem even steeper. But even though It isn't the most affordable, its style and protection are worth the price.

Price: $59.95 on HelloNomad, check price on Amazon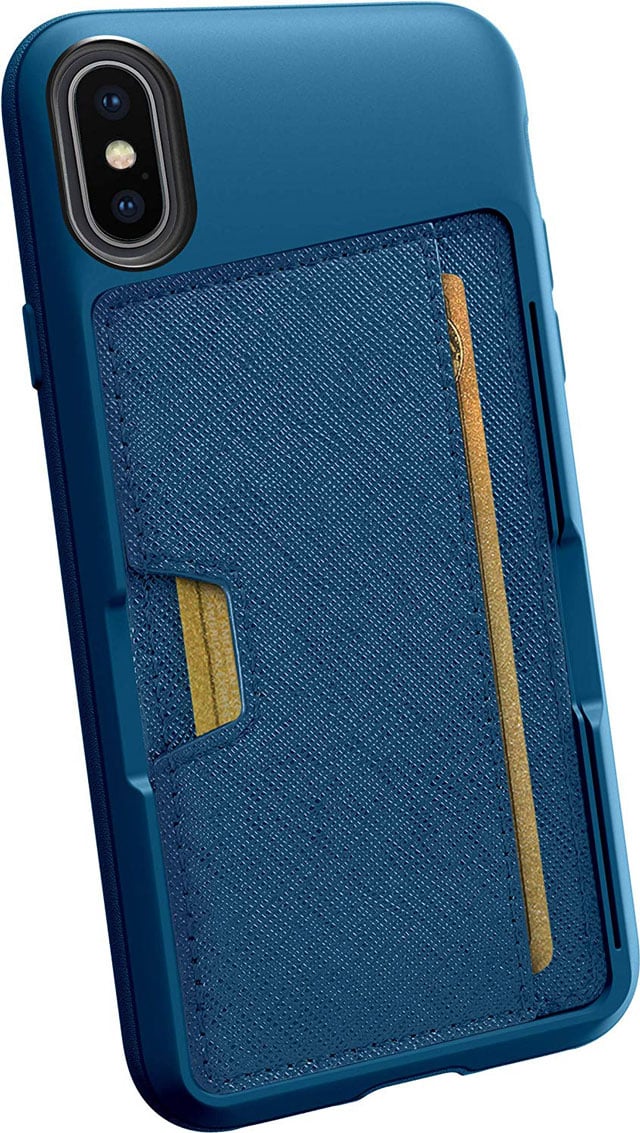 For the Minimalist: Silk iPhone CM4 Q Card Case
Silk's CM4 Q Card Case is ideal for the minimalist-minded who prefers a simple design and carrying only the bare essentials thanks to its no-fuss, thin and lightweight architecture. It also does a good job protecting your phone from bangs and drops, boasting a durable construction with a tough exterior and air-pocketed corners that act as airbags for your iPhone. Additionally, it comes with its own screen protector film, which may not be as good as a tempered glass protector, but still does a decent job of keeping the scratches at bay.
As for the wallet part, it's tucked into the back of the case and fits three cards plus cash, in keeping with its streamlined design. It also has a thin slot in the back, which fits a credit card so that you can use it as a makeshift stand for watching videos. For extra convenience, it's also compatible with wireless charging. And, it's available in a variety of colors.
Price: $24.99 on SilkSmartish, check price on Amazon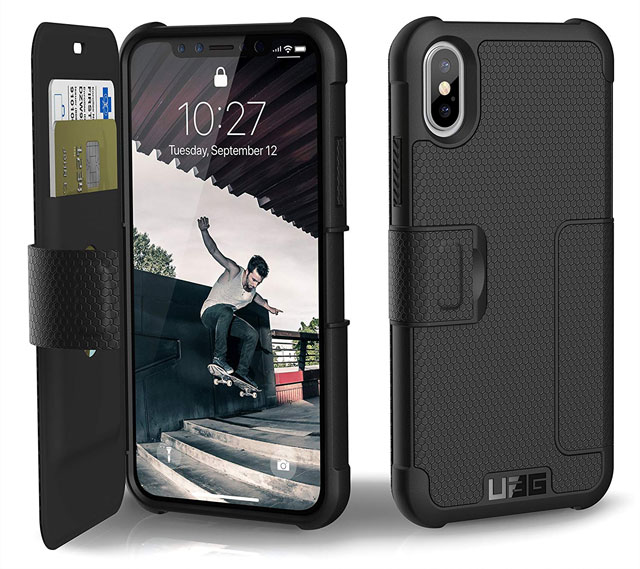 For the Adventurer: Urban Armor Gear Metropolis Case
The beauty of Urban Armor Gear's Metropolis case is that not only are they very affordable at only $40 — already an advantage for the adventurer who typically spends a lot on gear — but it's also built for extreme conditions. The case features a non-slip exterior with a nice tactile feel for excellent grip, with an impact resistant core and a soft felt-lined interior for all-around protection. UAG says that it has met military standards during their drop tests, which makes this the case you want protecting your iPhone when you're backpacking, climbing cliffs, and anywhere else your phone might be put to the test.

As for the rest, the case is compatible with Apple Pay and wireless charging, a convenience you don't always see in rugged cases. For its wallet features, it has a flexible flap/cover can carry a couple of cards and a bit of cash. In addition to black, comes in Magma and Cobalt if you want a different look.

Price: $39.95 on UrbanAmorGear, check price on Amazon
Image Credit: Spigen, Caseowl, FYY, Dreem, Moshi, Nomad, Silk, Urban Armor
Discussion