We may earn commissions when you buy from links on our site. Why you can trust us.

The Best Pet Health Sites
Pet ownership sometimes seems like one long series of questions. How should we take care of a new arrival, and adjust as he or she grows older? How can we trim claws, groom fur, and correct bad behavior? And what about that odd symptom that's cropped up – should we race to the vet? When it comes to pet info sites the Internet is raining cats and dogs, but the five listed here are especially valuable, with information prepared by professionals and presented in an easy-to-understand way.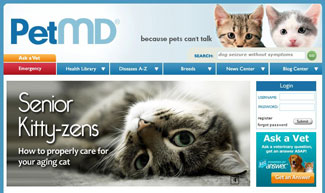 PetMD
A slickly designed magazine-style site, the "isn't-that-cute" quotient is a bit high, but there's also lots of solid information on care and behavior for a wide range of animals (ferret fans can ferret out answers to pretty much any question here, for example). There are two active blogs with posts written by veterinarians, and lots of interesting news articles – apparently the most popular dog in NYC is the Yorkie, while in LA it's the bulldog! Overall, a first-rate combination of serious information and browsable entertainment.
PetEducation.com
You'll find lots of expert advice presented in an appealing way here. You'll also find product offers from the sponsor, the Doctors Foster and Smith pet supply company, but the commercial side never intrudes on the factual presentation. There's information on dogs, cats, fish, birds, ferrets, reptiles and other small pets, including well written articles (which you can download as pdf files, an excellent idea) and lots of videos demonstrating important tasks such as nail clipping, removing matted fur and giving medications. Another excellent resource here: the Emergency Info section in the leftmost column, offering hotline contacts, advice on when to contact a vet, and first aid suggestions.
VeterinaryPartner.com
This site is actually aimed at veterinary professionals, but civilians are welcome, and the writing is perfectly comprehensible without a medical degree. In fact, The Pet Connection syndicated column is included here, written by Dr. Marty Becker, who appears regularly on "Good Morning America," and well-known pet care author Gina Spadafori. The site design is unexciting, but the range and quality of information is noteworthy. VeterinaryPartner covers not just dogs and cats but also reptiles, small mammals and horses, with detailed advice on behavior, health, diseases and drugs.

Cornell Feline Health Center
The Cornell University College of Veterinary Medicine apparently has a soft spot for cats, with an extensive health information site dedicated specifically to felines. I particularly like the online Feline Health Brochures, which cover common issues (feeding, behavior problems, senior cats) along with diseases and conditions specific to cats.
Washington State University Pet Health Topics
Never really thought about how you could figure out the sex of a kitten before (apparently the obvious bits of baggage don't show up until they've grown a bit), but the folks at WSU clued me in, complete with photos, thank you very much. It's one of roughly eighty informative articles written for pet owners covering diseases and symptoms, along with pet care concerns like dealing with winter weather and gift ideas for pet owners.
---
Discussion