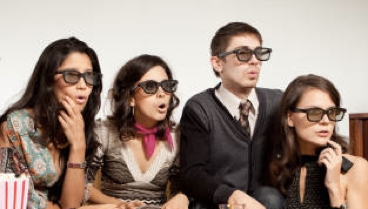 When the first 3-D movies started hitting the theaters, I was excited to take my kids to see them. I realized early on, though, that I was not enjoying 3-D — I just got headaches.
So I spoke to Dr. Dominick Maino, professor of pediatrics and binocular vision at the Illinois College of Optometry/Illinois Eye Institute, about my issue. It turns out I had one of the symptoms of a binocular vision problem that interfere with 3D viewing, which also include nausea, dizziness and lack of depth perception. This issue affects approximately 16 percent of people, yet few realize they have a 3-D vision problem.
Dr. Maino points out, binocular vision isn't just about enjoying movies. Binocular vision problems can affect your ability to focus on a page when reading or a ball while playing sports, drive a car or ride a bike.
Your insurance company may cover the comprehensive eye exam, but the follow-up sensorimotor test that would be required to nail a diagnosis may not be covered. So I was intrigued to learn about a simple, inexpensive test, called a Brock String test, you can do at home to see how well your eyes work together.
To perform the test, all you need is one piece of string that measures about the length of your arm. Tie a knot in the middle, and then a knot two to four inches from each end. Hold the string up to your nose with the closest knot about two inches away from your nose. Make sure your finger isn't obscuring your line of sight. Now you're ready to go.
First, check to see how many knots you see as you look at the knot in the center. You should see only one. If you see two, you may have double vision, or diplopia, and should consult your optometrist.
Next, check to see how many strings you see as you focus on the center knot. You should see two, crossing at the knot in the middle. If you don't see two strings, you don't see 3-D. I found that the strings kept popping in and out, so I definitely have issues with 3-D perception.
If you see two strings, the next step is to determine where the strings cross. If they cross at the center knot, your eyes probably work well together and you can see 3-D. If they cross in front of the center knot, your eyes are pointing in too much and you have "convergence excess." And if the strings cross in back of the center knot, your eyes aren't pointing in enough and you have "convergence insufficiency."
(Confused? Here's a straightforward, though somewhat boring, video demonstration of the Brock test.)
Fortunately, these issues can often be corrected with glasses or optometric vision therapy. So take the Brock String test to see how good your two-eyed vision is. And if you end up being in the 16 percent of people affected by a binocular vision problem, make the time to see your optometrist.