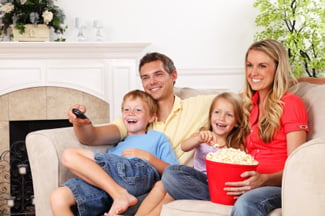 The number of U.S. homes paying cable, satellite or fiber optic TV service last year actually declined by 1.5 million, or about 1.5 percent, according to Nielsen's latest Cross-Platform Report. That's an annual savings for the average home of $840 - $1,200. So is it time for you to pull the plug on your pay TV provider?
What's available online
If you're willing to cobble together a few sources, there's a lot of great streamed content out there. You may already be using Netflix ($7.99 per month), Amazon, iTunes or Hulu Plus ($7.99 per month) to stream or download your favorite shows. To round these services out, try the following.
Network and basic cable
The three major networks—ABC, CBS and NBC—plus most other network and basic cable channels stream full shows the day after they air. Other sites, like Fox, let you view episodes the day after only if you're a pay TV subscriber, opening the content up to non-pay-TV viewers after eight days.
Don't forget that you can get most local broadcasts over the air. When combined with a DVR like TiVo (around $200), you can record programs for playback later.
News
You can find streamed news clips on most major news sites, and on MSNBC.com and Fox News you can even watch a full program. (CNN only streams full programs for pay TV subscribers.) For single programs or niche news stations, try Ustream.tv, which carries live, streamed news programming, including the PBS News Hour, Nikkei Japan News, TMZ Live, AP Live and the Wall Street Journal.
Premium Channels
HBO and Showtime fans have to wait for the season to end and purchase it from Amazon or iTunes, or wait for it to become available on Netflix.
But if you're a pay TV subscriber, you can watch episodes on Showtime Anywhere or HBO Go immediately online on your computer, smartphone tablet, smart TV or game system.
Sports
All of the major sports leagues have streaming services. There's NFL Game Rewind, NBA League Pass, NHL GameCenter LIVE and MLB.tv. You'll pay about $20-$25 per month to watch on your computer, tablet, smartphone, smart TV or game system. And with MLB.tv Premium, you can even choose the home or away team feed.
For pay TV subscribers, there's Watch ESPN for iOS, Android, computers and Xbox 360, which provides live streaming feeds and replays from ESPN, ESPN2, ESPN3 and ESPNU.
And if you want to watch boxing, North American Soccer League, or the Olympic News Channel, you can tune in to Ustream.tv.
Kids
There's plenty of quality kids' programming that's available for free on sites like DisneyChannel.com, DisneyXD.com, Nickelodeon and PBSKids.org, among others.
The hurdles
Even will with all of these streaming resources, there are still a number of hurdles if you choose to only stream or download your favorite shows.
Most live events aren't streamed—the Super Bowl being an exception. (Though, you can always purchase an antenna and pull in an over-the-air signal for most major events.)
You'll have to wait at least a day to watch network TV.
Your video viewing will be fragmented, so you'll have to remember where you watch each show—the network's website, an online streaming service like Hulu or on iTunes.
You'll have to wait months to watch content from premium channels like HBO and Showtime.
You'll have to pay to watch sports.
Saving money without cutting the cord
You don't have to cancel your service to save money by streaming TV. If you're paying for service on one TV, video providers like HBO, Showtime Cartoon Network and ESPN, will let you access their content for free through the web. So you can ditch your second or third cable box and stream via your computer or a Roku HD box ($59.99). You will also save on video rentals while on the road by streaming movies instead.