Astro Baby Bouncer Plays Your Own MP3s - Give Your Baby Some Variety!
Techlicious editors independently review products. To help support our mission, we may earn affiliate commissions from links contained on this page.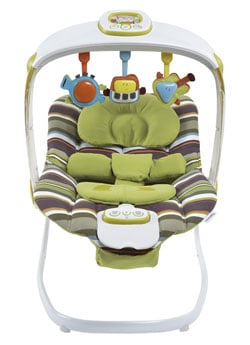 Tired of hearing the same old generic classical jingles coming from your baby's gear? With Mamas & Papas Astro baby bouncer ($200), you can provide your own soundtrack by plugging in any audio player with a 3.5mm headphone jack.
While listening to your tunes, baby can activate a light show by pulling on the hanging toys or kicking on the foot pads. You can also buy additional Mamas & Papas Astro Magic Cards (Musical Fun: $30, Jingly Jungle: $30) that deliver four modes of play and and more than 150 sounds and songs.
Discussion