Astro Baby Bouncer Plays Your Own MP3s - Give Your Baby Some Variety!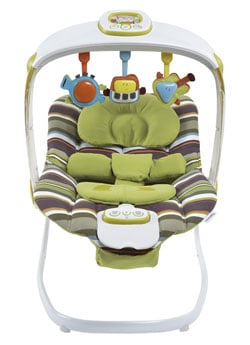 Tired of hearing the same old generic classical jingles coming from your baby's gear? With Mamas & Papas Astro baby bouncer ($200), you can provide your own soundtrack by plugging in any audio player with a 3.5mm headphone jack.
While listening to your tunes, baby can activate a light show by pulling on the hanging toys or kicking on the foot pads. You can also buy additional Mamas & Papas Astro Magic Cards (Musical Fun: $30, Jingly Jungle: $30) that deliver four modes of play and and more than 150 sounds and songs.
Discussion