Nespresso CitiZ Single-Serve Espresso Maker Review
Techlicious editors independently review products. To help support our mission, we may earn affiliate commissions from links contained on this page.
We're big fans of the Nespresso single-serve pod system (see Single-Serve Coffee and Espresso Makers), and were excited to get a chance to review the new CitiZ model ($279). We found that the CitiZ provides the same excellent quality espresso we're used to, in a very compact, stylish design.
Design
As its name suggests, the CitiZ was designed for city dwellers, such as ourselves, or anyone who is looking for a slimmer design to save on counter space. At only 5" thick, including the base, you'll have no trouble finding a place to set it up. And, as with other Nespresso models, the sleek retro design puts most other kitchen appliances to shame.
One big advantage of the new, taller design is that the flip-up cup holder allows you to fit larger cups under the spout than other entry-level Nespresso models. This is very helpful when making lattes or, in summer months, iced coffees (which the Nespresso machines do surprisingly well).
Making Espresso & Cappuccinos
The basic functionality of the Nespresso CitiZ is the same as for most other Nespresso models. Once you have filled the 1-liter tank housed on the back, you insert a proprietary Nespresso pod, pull down the lever and push a button for either an espresso or larger "lungo". That's it – the machine takes care of the entire brewing process. Used pods are stored inside the machine until you are ready to dump them.
In our testing, espressos from the CitiZ were identical to those from our Nespresso Lattissima model. Total time from turning the machine on to brewed shot was marginally slower than our Lattissima, but still plenty fast at under a minute. Once the machine has warmed up, subsequent shots take less than 30 seconds. If left on, the CitiZ will eventually go into an energy saving standby mode.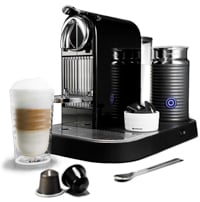 There is no built-in milk frother on the CitiZ. However, recognizing that most of us like to make cappuccinos as well, Nespresso created the CitiZ and Milk model ($349), with a wider base that incorporates an Aeroccino+ milk frother. The Aeroccino heats and froths milk in under a minute, and makes enough froth for about two cappuccinos.
Having the Aeroccino attached provides some convenience, but negates all the benefits of the slim design. In our opinion, unless you have plenty of space, most people would be better off buying the basic CitiZ model and Aeroccino+ ($99) separately, even though it will cost you thirty dollars more to do so - would be nice if Nespresso offered a discount on this combination.
And, if space and cost are not an issue for you, you may also want to consider the Nespresso Lattissima, with fully-automatic milk handling, at its new lower price of $499. The froth is not quite of the quality that you get from the Aeroccino+, but the convenience of the automated milk frother is exceptional.
Conclusion
We can't help but love the design of the CitiZ. You pay a premium over Nespresso's other "entry-level" machines, but we feel the ability to use larger cups and the super thin design makes it worth the extra expense. At $279, we highly recommend this model.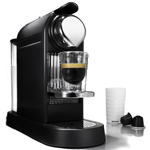 Nespresso CitiZ: Buy from Amazon.com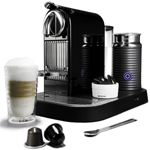 Nespresso CitiZ & Milk: Buy from Amazon.com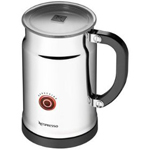 Aeroccino+ milk frother: Buy from Amazon.com
Discussion