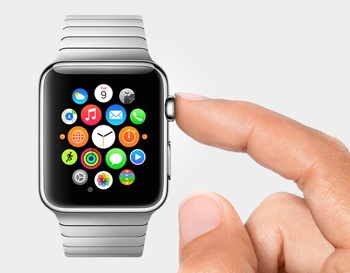 The new iPhone 6 isn't the only big news out of Apple today. At its smartphone launch event today, the world's largest computer company pulled one of its famous "and one more thing" teasers to introduce the long-awaited Apple Watch. The smartwatch is Apple's answer to the Google's Android Gear smartwatch environment, launched earlier this year, found on devices like the LG G Watch R.
The Apple Watch takes the form of a square with rounded corners. On the side of the touchscreen device, you'll find the Digital Crown, a new winding control mechanism that helps you zoom and navigate through lists on the simplified UI. The watch itself is available in two different sizes and three different finishes: the Apple Watch (black), the Watch Sport (aluminum) and a snazzy 18-karat gold Watch Edition. You'll also find an incredibly wide range of straps to match any occassion.
There's a lot to like about the Apple Watch operating system. On the home screen, app icons are arranged like gumballs in a vending machine, accessible through touch and sortable with the Digital Crown. It can interface with your phone to put turn-by-turn Maps directions on your wrist, make Apple Pay tap payments, send messages through voice commands and make calls. The watch face, meanwhile, is highly customizable with information like the weather, fitness data, the date and (of course) time.
Speaking of fitness data, the Watch was designed to collect a wealth of data when worn in the gym or while out for a run. On the most basic level, the Apple Watch acts as a fitness tracker, counting steps and movement throughout the day. But it also measures how often you stand and engage in brisk activity, creating an overall picture of your physical fitness. The Workout app brings it all together, giving you great information about your pace and your calories burned over time.
There's a major catch with the new device, though: It requires the Apple iPhone 5, 5C, 5S, 6 or 6 Plus. Of course, if it's the Apple Watch that finally convinces you to give wearable tech a try, you're likely already an Apple fan to start with.
The new Apple Watch will start at $349. The full line will be available sometime in early 2015.