We may earn commissions when you buy from links on our site. Why you can trust us.

Review: Nintendo 3DS Delivers Serious Mobile Gaming
The most buzz-worthy feature of the new Nintendo 3DS is its no-glasses-required 3D display, but when it comes to actually playing a game, it's the combination of cameras and controls that provides the real breakthroughs.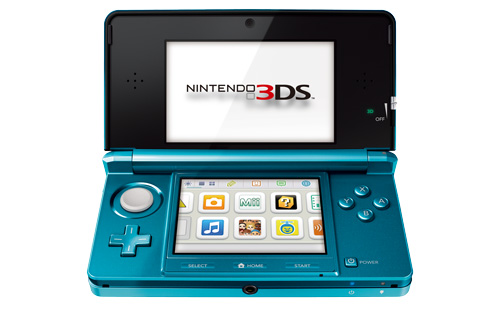 On the outside
The Nintendo 3DS is compact, at 5.3 x 2.9 x 0.8 inches, but a bit hefty for a pocketable device at 8.3 ounces (by way of contrast, an iPhone 4 weighs 4.8 ounces). On the outside are two low-res 0.3-megapixel cameras, a volume slider, stereo headphone jack, SD memory card and game card slots and a Wi-Fi on-off switch. There are two game control buttons located in the top left and right corners, a microphone, and a collapsible stylus tucked away in a slide-out compartment.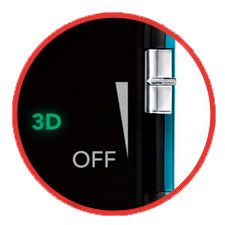 Lift the lid and you'll find a third camera and two displays. The one on the bottom is a 3-inch touch-screen. On the top is a 3.5-inch screen that can display 3D images -- a slider switch on the right adjusts the level of the 3D effect, or turns it off entirely.
Playing 3D games
Overall, the 3D display works as promised. Since you are holding the 3DS in your hands, it's easy to position it in the "sweet spot" that lets each eye receive a separate image, creating the illusion of three dimensions. Alignment isn't overly sensitive when it comes to tilting the screen forward or back, but you don't have a lot of leeway when it comes to side-to-side tilt, which becomes an issue when playing some titles – more on that later.
Held properly, the 3D image is bright and clear, and in-game animations can really deliver an exciting experience. For example, flying a glider in Pilotwings Resort gives much more of a swooping, soaring sensation when played in 3D. It's worth noting, if you're one of those people who doesn't like 3D, that all of the games can be played just fine in 2D. Also, Nintendo warns that "viewing of 3D images by children 6 and under may cause vision damage." You can turn 3D off in the comprehensive parental controls settings, though there's no setting to stop the argument you'll get from young players.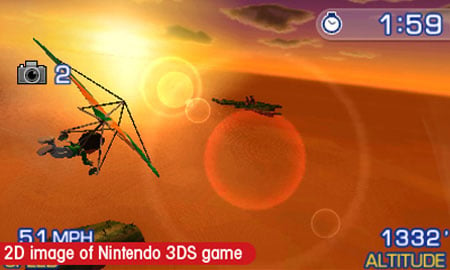 Nintendo has beefed up the control scheme from previous DS models in meaningful ways. For starters, in addition to the familiar control pad and control buttons, there's now a "circle pad," a free-moving analog thumb control that provides much more fluid movement than the old up-down-left-right control pad. In addition to making new 3DS games more playable, the circle pad also works with older DS and DSi games, a big plus..
It's not all about the buttons, though. Appropriately enough for the company that brought us the Wii game system, the 3DS includes motion control that feels very smooth and accurate. Add in the two front-facing cameras and you have truly original augmented reality gaming experiences, overlaying a live image with animation. Some good examples are built right into the 3DS.
For example Face Raiders lets you take 3D photos of faces, which are then turned into animated enemies that fly all around a live image of the room you're standing in. It isn't just a flat picture zooming around a background either. The system has the processing power to animate the face you've captured, giving it facial expressions and opening and closing its mouth. It can also alter the appearance of the background, creating virtual holes when your shots miss their target. It's an ingenious way to show off the potential of 3DS. Another augmented reality game, AR Games, comes with a set of cards. Lay one on a flat surface, point the camera at it and the card comes to life, requiring you to move around to aim the 3DS at animated targets that appear out of thin air.
There is an important reality check in this augmented reality lovefest, though. I mentioned that tilting the 3DS from side to side messes with the 3D effect. Bobbing and weaving to shoot at targets popping up around you, it's inevitable that you'll mess with the alignment in uncomfortable ways. Turning down the level of 3D effect helps, but you may well find yourself turning it off entirely for this type of gameplay, which does cost you some cool visuals.
The software selection available at launch isn't bad, but it isn't exactly thrilling either. Nintendo itself has only three games ready – Pilotwings Resort, Steel Diver (a submarine game) and Nintendogs + Cats. There are thirteen games from other publishers, including The Sims 3D, Super Monkey Ball 3D, Lego Star Wars II: The Clone Wars and Rayman 3D (the one I'm most eager to play). Nintendo promises more of its heavy hitters, including Mario, Zelda, Kid Icarus and Star Fox, will arrive within the next few months.
Camera
The 3D camera works well as long as you're sticking with display on the 3DS screen – you can transfer both 3D and 2D images to your computer, but 0.3 megapixel images are not going to look great at more than a few inches across.
Built-in apps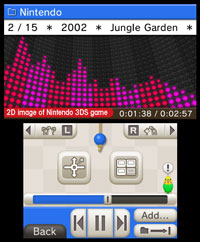 Nintendo has improved its music playback with the move from DS to 3DS, finally providing MP3 support, though the player software is pretty rudimentary. There's also an interesting pedometer feature that counts up your footsteps while you're carrying the 3DS, rewarding you with coins that can be used to buy in-game items. And in addition to the standard Wi-Fi and DS-to-DS gaming connections, there's a new feature called StreetPass, which can share game information (characters you've created, for instance) with other nearby 3DS owners, without ever actually meeting each other (you can turn this feature off, of course, if you're concerned about privacy).
Charging and battery life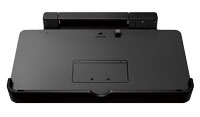 You can connect the 3DS directly to the AC adapter, but Nintendo also provides a nicely designed charging dock, particularly appreciated if you have Nintendo-playing kids in the house and would rather not have them fiddling with power cords. And you will be charging the 3DS frequently; Nintendo estimates a modest 5 hours of playing time per charge. You can, of course, play while the system is charging.
Internet access
Internet support beyond head-to-head gameplay isn't available yet – it's scheduled to arrive in a May software update, which will allow access to an online store for purchasing downloadable games. Nintendo also promises Netflix support, which gives the 3DS some multipurpose credibility. Whether Netflix will provide 3D shows and movies hasn't been announced.
Should you buy it?
So, with a $250 price tag, how does the Nintendo 3DS stack up in a market where cell phone gaming is increasingly popular and sophisticated?
That depends on how serious you are about playing games. The 3D display is a significant technical achievement, and taking your own 3D photos adds a bit of sizzle, but I'm not sure 3D justifies the purchase on its own, especially given the limited viewing angle. The 3DS has the processing horsepower to handle sophisticated game designs and animation, though even here we're seeing real strides in the phone market.
Where the two diverge dramatically, though, is game control. Cell phone games routinely fall short because you just can't control the on-screen action with enough precision and flexibility. Nintendo has no such limitation. With six gaming buttons, the cross-shaped pad and the excellent new analog circle pad plus motion control, game designers have the same kind of control accuracy and flexibility you'd find on a full-size game console. No cell phone comes close. And for those of us eager to go beyond casual gaming to enjoy hours of entertainment on the road or on the couch, the arrival of the Nintendo 3DS is very good news indeed.
---
Discussion