Review of the Apple iPod touch (Gen 5) and iPod nano (Gen 7)
Techlicious editors independently review products. To help support our mission, we may earn affiliate commissions from links contained on this page.
Smartphones seem to be everywhere, but for those of us who are still clinging to our good old-fashioned cellphones, there has been and continues to be a very fine alternative: the iPod touch. It's the iPhone without the phone and associated high monthly costs.
Up to the fourth generation of these devices, however, Apple maintained significant differences between them that always made the iPod touch just a little bit less desirable––such as the touch's much worse built-in camera or its scratch-prone shiny metal back cover.
With the new fifth-generation iPod touch, Apple has narrowed the feature gap between it and the iPhone, making it a worthy upgrade for owners of the fourth-generation touch–– and an even better excuse for once again eschewing a smartphone.
Less clear is the rationale for upgrading to the seventh-generation iPod nano from the sixth-generation nano. There is a new design with a larger display and a refined user interface that makes the new nano now much more like the iPod touch and much less like the previous nano. Yet, the nano's essence remains deeply rooted in the iPod past rather than the iPhone present––a digital media player in a smartphone world.
I have had both to test since they debuted in September and repeatedly found the new iPod touch to be much improved compared with its predecessor, but the nano not as much. Here's why...
iPod touch: faster, smarter, more vivid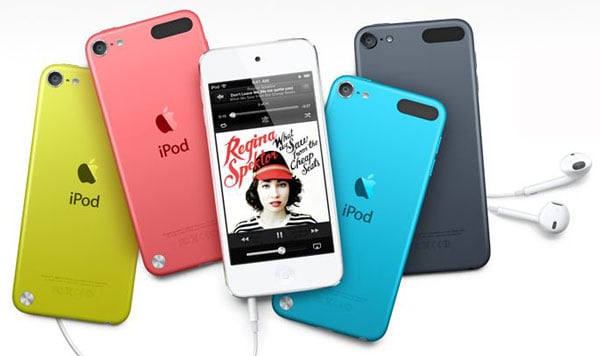 The most satisfying upgrade in the fifth-generation iPod touch is its much faster processor, the same dual-core A5 chip that powered the iPhone 4S. Compared with the chip in the fourth-generation iPod touch, the A5 is two times as fast at performing tasks and seven times as fast at generating graphics, and it's obvious. Apps load and start faster, e-mails download quicker, and app updates take much less time to complete.
This higher level of intelligence also enables two voice-centric capabilities not available in prior touches: Apple's Siri personal assistant and dictation for e-mails and text messages. These all worked nearly flawlessly for me, with rare misunderstandings of my spoken words by the device, and I found dictating e-mails and messages to be much quicker than typing them on the touch's tiny keyboard.
Visually, the fifth-generation touch's larger Retina display also much more vivid than the display of the old touch. And it is a good pairing with the now much better integrated cameras––a front-facing FaceTime HD camera that captures 1080p video and a rear-facing iSight camera that shoots 5 megapixel )MP) pictures in still or panoramic formats, records 1080p video with image stabilization, and includes autofocus, face detection and an LED flash. Both cameras in the fourth-generation iPod touch were much lower quality; its iSight camera, for example, shot photos with a resolution of less than 1MP.
Finally, the rear case of the new iPod touch is made of the same sort of anodized aluminum that encases the iPad and Apple's various laptop computers, and for me it has proven to be much more durable than the chrome back used on previous iPod touch models.
If there is one drawback to the fifth-generation iPod touch versus the fourth it could be the new model's longer and thinner dimensions, which make it slightly more difficult to pick up from a table top, and perhaps more easily dropped by a clumsy holder. Wrapping it in a protective case could solve this problem. I have had no inclination to use the wrist strap "loop" that came with the new iPod touch and attaches to a retractable holder that pops out from the device when pressed––but rather considered it extraneous and of little value.
To be sure, the fifth-generation iPhone still is a more advanced device than the new iPod touch, incorporating an even faster new processor (A6) and an even better iSight camera. But it is a safe bet that these two devices are not targeted at the same potential customer, and the iPod touch is now an even better device for anyone still strenuously avoiding a smartphone.
Pricing has been set at $299 for a 32-gigabyte model and $399 for a 64-gigabyte model on apple.com. Available for $284.95 on amazon.com
.
iPod nano: taller, thinner, more like a touch––but not quite the alternative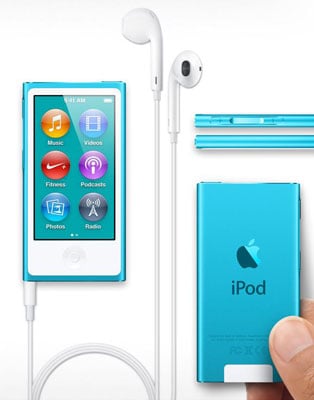 Redesigned to resemble an iPod touch, the seventh-generation iPod nano is now outfitted with a home button situated beneath the similar 2.5-inch Multi-Touch display, which is the largest display ever featured in a nano. Like the iPod touch display, it responds to finger taps, swipes and pinches for controlling the device's functions and built-in apps, which include all of the usual choices in a nano: Music; Podcasts; Photos; Audiobooks; Clock; Nike Plus (which utilizes the built-in pedometer); and FM Radio (which is usable only with headphones attached).
Brought back in the new iPod nano is a Video app, which was left out of the previous-generation nano.
Bluetooth was added, too, so the seventh-generation nano can be paired with wireless headphones, a car audio system, a home audio system or any other Bluetooth-enabled accessory.
Additionally, the volume up/down buttons were redesigned and unified into one piece with an indentation between them that functions as a play/pause controller.
This is also the thinnest iPod that Apple ever produced, measuring just 5.4 mm from front to back.
Yet there are caveats to go along with these changes, too.
Firstly, the redesign also eliminated the built-in clip that made the sixth-generation nano ideal to use while exercising, and in keeping with this change Apple also has kept the nano's user interface (UI) stuck in place, vertically oriented to the home screen below; the seventh-generation nano UI won't reorient as the device is rotated vertically and horizontally like the UI of the sixth-generation nano did.
Secondly, video playback is limited to standard-definition (SD) resolution. The new nano won't play videos stored in a high-definition (720p or 1080p) resolution format, which the iPod touch will. Moreover, videos on the iPod nano will play only in widescreen mode (horizontally). These two limitations are not necessarily faults, however; SD resolution looks fine on such a small screen and widescreen is the best way to watch a video on the device.
Thirdly, despite its resemblance to the iPod touch, the nano lacks some of its larger sibling's most compelling features, including Wi-Fi; the ability to sync with iTunes or purchase new music, videos, games and apps from the iTunes Store wirelessly; Game Center integration; an iBooks app; and iCloud support including access to contacts, calendars, notes or reminders available via the iPod touch (or iPhone, iPad and Mac computers).
In the final analysis, the new iPod nano remains a fine choice for anyone who simply wants an iPod to use during exercise or any time the significantly larger iPod touch or iPhone would be a cumbersome nuisance. But owners of the sixth-generation iPod nano who can accept doing without video playback and Bluetooth integration may be better off staying with that smaller, even more convenient model.
Pricing for the seventh-generation iPod nano is set at $149 for a 16-gigabyte model on apple.com. Available for $139.99 on amazon.com
All-New EarPods
Both the fifth-generation iPod touch and the seventh-generation iPod nano come with Apple's new earbud-style in-ear headphones, called EarPods. They fit more comfortably and more securely than Apple's previous generation of iconic white headphones, as well as provide improved sound quality.
But the EarPods included with the iPods don't have an integrated remote control and microphone, which are integrated into the EarPods that come with the iPhone 5. This is an unfortunate omission particularly for iPod touch buyers, who would find the better EarPods immediately useful with the newly integrated Siri, for example.
Apple does sell the better EarPods as an accessory, though, priced at $29 on apple.com. Available for $27.57 on amazon.com
Discussion