Review of the LG Thrill 4G (AT&T)
Techlicious editors independently review products. To help support our mission, we may earn affiliate commissions from links contained on this page.
With 3DTVs, Nintendo's 3D handheld gaming console, and several 3D cameras and camcorders on the market, it's clearly time for a 3D cellphone…maybe. Both HTC (with its HTC Evo 3D) and LG with the Thrill 4G have created Android phones with glasses-free screens that not only let you play games and online content in 3D, but also shoot your own 3D photos and videos. Which brings up three key questions. What can I do in 3D? How well does it work? And who cares?
The LG Thrill has dual cameras mounted on the front, which can take both 2D and 3D photos and video, suitable for watching on the phone display or on a 3DTV, thanks to an included HDMI cable. LG also delivers a fair amount of 3D content right out of the box. There's an effective 3D user interface, three games and a storybook app, ten handsome sample videos and a link to the 3D channel at YouTube. If you're intrigued by the recent 3D boom, there's a lot to like here.

In the case of the HTC Evo 3D, the "who cares" factor is multiplied by the premium-price factor – at this writing, Sprint is selling it for a princely $199.99 with a two-year contract. With the LG Thrill selling at AT&T's more mainstream $99.99 price, the purchase dynamics shift. The LG Thrill is a handsome Android phone featuring a big screen and a fast processor, with 3D basically thrown in as a bonus, making it a real contender.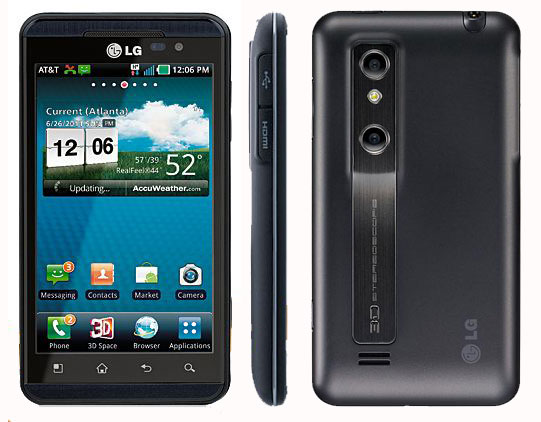 How it feels in the hand
With rounded edges and a comfy rubberized surface, the LG Thrill felt fine in my relatively large paw, but at 5.99 ounces with a 4.3-inch display, it's definitely a big block to stuff in your pants pocket.
The volume rocker is placed conveniently under your thumb (assuming you're right-handed), and the power button falls naturally under your index finger. There's a second button on the right side which you might reasonably expect would function as a camera shutter button. Sorry – it brings you to the dedicated 3D apps menu instead, which counts as a wasted opportunity to make grabbing unexpected photos faster and easier.
Display & Sound
The LG Thrill delivers a 4.3-inch display at 800x480 resolution – that's lower than the HTC Evo's 960x560, but still sharp enough to deliver an enjoyable experience when looking at photos or watching Netflix streaming video. Bright sunshine washes out the colors somewhat, but there's more than enough screen brightness to remains completely legible even in harsh lighting conditions.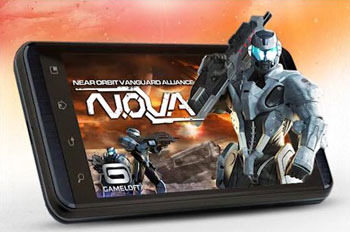 Watching professionally produced 3D video and playing 3D games, the depth effect is dramatic, with characters and objects appearing to pop out from the top of the screen. Like other glasses-free systems, you have to hold the phone at just the right angle to get a clear 3D image – if you're off a few degrees, you'll see ghosting and blur. I found that there was enough viewing angle forgiveness to get a clear image for a short video or gaming session, but holding the device just-so for a long period of time – say, to watch a full-length movie – is going to be uncomfortable. There is a workaround for this, if you own a 3D television – the LG Thrill 4G can connect to the HDMI port and show exactly what's on the phone display on the big screen, both in 2D and 3D modes.
Sound from the little speaker is fairly loud. Speakerphone calls went off without a hitch, and I could play games without wearing headphones. The level of distortion when listening to music at high volumes, though, was the usual unpleasant cellphone speaker experience.
Web browsing & mobile hotspot
The LG Thrill 3D claims 4G speeds, but it runs on AT&T's HSPA+ network, which is nowhere near as fast as the company's 4G LTE networks. Multiple runs of our speed test with 4-5 bars of HSPA+ coverage produced an average download speed of 2.4Mbps and upload speeds just under 1Mbps. Of course, speeds will vary based on location, but this pales in comparison to the 17-22Mbps upload and 5-7 Mbps downloads we measured on the Motorola Droid Bionic, an LTE phone.
With the appropriate data plan, you can tether the LG Thrill to your computer for use as a wireless modem, or set up a wireless hotspot with up to four simultaneous connections.
Camera & video recording
Shooting your own 3D photos and videos is a primary reason for choosing the LG Thrill. You can shoot 5MP stills in 2D, or 3MP stills in 3D. The 2D shots are about average for cellphone photos – not as sharp as a decent compact camera, with some exposure problems in bright areas and in the shadows. In other words, good enough to post online, but you probably wouldn't want to print one. On the 3D side, there is definitely a pronounced three-dimensional effect, but it reminds me of what you see with View-Master discs. It looks like flat cutouts were placed at different distances from the camera, which produces an unnatural effect. Of course, that's true of a lot of 3D material, and you may find it more appealing than I do. On the other hand, the pronounced shutter lag and the fact that you can't use the LED flash when shooting in 3D won't please anyone, particularly when trying to shoot indoors.
You can also shoot 3D video in 720p HD, and 2D video at 1080p. The 2D results are pretty good, and looked fine even on a big-screen TV. The 3D video doesn't stand up well compared to professionally shot 3D, with noticeable ghosting for objects near the outer edges of the frame. It's fun as a novelty, though, and again sharing on a 3DTV is perfectly practical. As with shooting stills, the LG Thrill 3D is much happier shooting outdoors on a sunny day than trying to grab indoor candids.
There's also a front-facing 1.3MP camera for video chat.
Keyboard & Navigation
The LG Thrill runs Android 2.2.2 with a customized AT&T skin, with includes seven pages for shortcuts and widgets. LG has included a full-screen widget that highlights the phone's 3D features and a permanent shortcut that opens the "3D Space" app, which offers access to 3D features through a 3D interface. By default, the application listing screen is divided into three sections, for 3D applications, preloaded applications and downloads, which I found awkward. Fortunately, you can change this to the standard integrated icon page layout or, even better, an alphabetical list.
The phone was consistently quick and responsive to the touch. There are two keyboard layouts available, standard Android and LG's own version, which adds a bit more space between keys but doesn't make a radical difference.
Storage
The LG Thrill comes with 8GB of internal memory plus an 8GB microSD card installed.
Battery life
Don't expect to use multimedia features and make it through the day with the LG Thrill 4G. Even with moderate use, I found the phone dangerously close to dead well before cocktail time, which is admittedly a frequent problem with large-screen devices. Investing in an external USB battery charger has basically become a necessity with this class of device.
Pricing and availability
Price is a strong suit for the LG Thrill, at just $99.99 on AT&T with a two-year contract. By contrast, the HTC Evo 3D costs twice as much from Sprint. And the LG Thrill 4G is only $.01 on Amazon Wireless.
Should you buy it?
The first question to ask is, do you own a 3DTV? If you do, the LG Thrill becomes a much more interesting proposition, since any 3D videos or games you can play on the phone can be displayed via HDMI on the big screen, and you can capture your own 3D photos and video at reasonable quality levels.
If you haven't made the jump to 3D in the living room, the LG Thrill is still a possibility, given the reasonable price for a large-screen Android device with snappy performance. A surprisingly large selection of 3D games is available for download, and you'll get some gee-whiz fun from shooting 3D photos and video. The phone responds to your input quickly, and handles streaming video and audio nicely. On the flip side, the phone is pretty heavy, and 3D still feels more like a novelty than a must-have feature. I'd suggest checking out the Motorola Atrix 2 (also $99 on AT&T), with its lighter weight and higher-resolution screen, before making a buying decision.
Rating: Recommended
Detailed Specs
Talk and Standby Time: Up to 6 hours talk time, up to 13 days standby
Band/Modes: EDGE/UMTS/HSDPA/HSPA+: 850/1900MHz GSM/GPRS/EDGE: 850/900/1800/1900 MHz
OS: Android 2.2 Froyo
Weight: 5.9 oz
Dimensions: 5.07 x 2.68 x 0.47 inches
Battery: 1500 mAh
Display: 4.3" LCD (800 x 480) glasses-free 3D
Video: 1080p (2D), 720p (3D)
Camera: Rear-facing dual 5.0 megapixel for 2D/3D, Auto Focus, LED flash
Front-facing Camera: 1.3MP
Mobile hotspot: Yes
Processor: 1 GHz Dual Core
Memory: 512MB RAM, 8 GB onboard storage and 8GB microSD card (expandable to 32GB)

Discussion
New Articles on Techlicious