We may earn commissions when you buy from links on our site. Why you can trust us.

Simple Solutions for Creating Video Greetings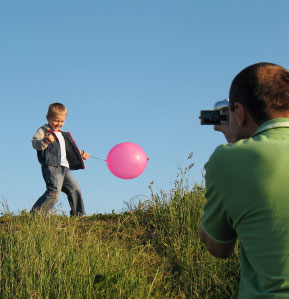 These days, there are more ways than ever to shoot your own video: using your cell phone, a Flip video camera, or even a digital camera—but editing that video can be a daunting task for many people. The good news is that you don't need to be a film school graduate to edit those precious memories into a presentable package. And, once you realize how easy it is, you may find yourself sending videos instead of traditional holiday cards and thank you notes.
Here are some of our favorite online sites and software that will help you to quickly and easily share your photos and videos in a video greeting or montage:
Sites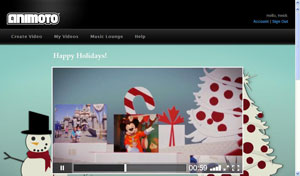 Animoto By using cinematic artificial intelligence, Animoto allows you to assemble a combination of video clips and photos and then seamlessly merge them into a professional looking video package. The site is intuitive to use, and uploading pictures and video is straightforward. Animoto has some nice options to add to your piece—including music. Once you're done creating your video, you can share it through email or on sites like Facebook and YouTube.
While you can access features for free, and an Animoto iPhone app exists, an All Access Pass for $30 per year will give you unlimited full-length videos and greetings, plus a bonus hi-res holiday greeting.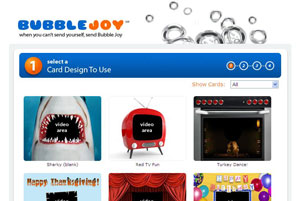 BubbleJoy Consider BubbleJoy if sending a video greeting, and simplicity and speed are your priorities. The site enables you to record yourself via your webcam and upload the video into a variety of card templates that are provided for free on the site. BubbleJoy is great for a video greeting novice, as the editing options and features are intuitive, even for non-techies and the provide what you need to send out a simple video birthday greeting, thank-you or birth announcement.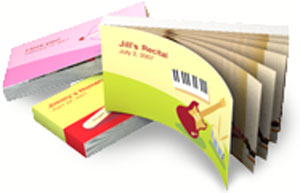 Motionbox Motionbox is a secure video sharing site that is aimed at families. It provides basic, easy-to-use video editing tools that allow you to trim, rotate and combine your videos, You can then share these online with your friends and relatives in a private environment. Motionbox is free for up to 750mb of storage. Upgrading to "Premium" for $40 per year buys you virtually unlimited storage, HD video support and the ability for recipients to downlod the video fro the site. They also offer a video "flipbook" for $8 plus S&H, which allows you to transform 15 seconds of video into a pocket-sized book you animate with your thumb.
Software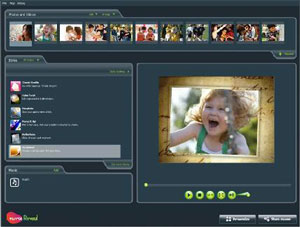 muvee Reveal This is a full-featured software program that allows you to easily create videos using still images or video. Muvee has incorporated some great utilities including music trimming, which enables you to use only the parts of a song you'd like, captions, voice-overs, credits and customizing tools to control the pace and background of the video. You can easily share your completed video to Facebook and YouTube, but can also burn it to a DVD or upload to your iPhone or PSP directly. Muvee offers a free 15-day trial off their website, otherwise it costs $69.85, with additional style packs available to spice up your video for $14.95 each.
---
Discussion