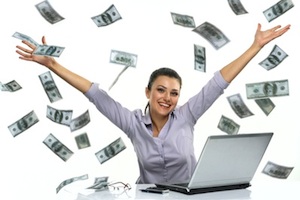 Those who know how to find a deal, whether coupon or rebate or rewards points, know the satisfaction that comes with slashing your bill at checkout.
But too many online services claiming to save you money just end up costing you precious time without much in return.
We've gone through the big ones and found 10 free websites and apps that will help you keep more dollars in your wallet.
Savings.com
With more than 200,000 coupons and local deals, there's a good chance Savings.com will help you save money on something you want to buy.
Just search its database for your favorite brands to find coupon codes you can use online. A Local tab uses your ZIP code to surface printable coupons and daily deals for nearby brick and mortar retailers and restaurants.
You can also install a Savings.com DealFinder extension for Internet Explorer, Chrome or Firefox. The app will follow wherever you go online, alerting you if you're on a site for which it has coupons.
RetailMeNot
RetailMeNot works similarly to Savings.com, claiming to offer 500,000 coupons from more than 50,000 stores, but what you might really appreciate is its app for iOS and Android devices.
Give it permission to track your location and find nearby deals, bookmark your favorite stores, save coupons for later use, find trending in-store and online deals and sort coupons by category.
Especially nice: You don't need to print coupons onto paper; just show the barcode on your phone to a cashier for scanning. You can also send coupon links to others via text or email.
PoachIt
Specifically created for online shopping, PoachIt works via a little button you drag to your bookmarks bar that you click once you're on the product page of something you may want to buy.
Not only does PoachIt offer coupon codes you can use upon checkout, but it tracks the price of your chosen items and alerts you when they go on sale.
FatWallet
As a tool for earning and saving money, this website does what its name suggests.
Not only does FatWallet connect users with coupons, local deals and sales, but if you use it to shop online at other sites, you can earn cash-back rebates that accumulate within your FatWallet account.
Once you're ready to get paid, FatWallet either sends you a check or transfers the money to your PayPal account.
Cartwheel
Frequent Target shoppers may want this app for iOS and Android. Select from hundreds of discounts — mostly 5% off on brands such as Market Pantry and Archer Farms — and add them to your Cartwheel barcode, which a cashier scans during checkout at the store.
Depending on how much you share on Facebook, you might like that the app makes you sign in with either your Target account or your Facebook account (with the latter probably being the easier and more popular choice).
If you do, however, your friends will be able to see what you're buying unless you select "only me" when giving the app permission to post on your behalf during installation.
Ibotta
This free app for iOS and Android gives you cash back for consuming or sharing advertising by watching a video, reading facts, taking a poll, getting a recipe or sharing on Facebook.
Do these things within Ibotta for your favorite brands at home; once you get to the store, use your smartphone to scan the barcode of an item for which you earned a rebate, then scan the receipt once you've made the purchase.
You can transfer money you accumulate to your PayPal or Venmo account or to various gift cards including Starbucks, Redbox or iTunes.
ShopKick
This free iOS and Android app shows you products and rewards available from stores such as Target, Macy's, Best Buy, Old Navy, American Eagle, JCPenney, Sports Authority and Crate & Barrel.
With the app turned on, you get points just for walking in the door, as well as scanning or buying products there. Points build up to earn you gift cards.
ShopKick recently announced it has doled out $25 million in rewards to 7 million gift cards since launching in 2010.
SavingStar
Use this website to zap deals on products to the loyalty cards of more than 100 grocery stores and drugstores. When you use your card at a store to redeem a deal, the savings is applied to your SavingStar account.
Once you accumulate at least $5 in your account, you can have it paid out to your bank or PayPal account, an Amazon gift card or the nonprofit American Forests. Earn cash back with SavingStar by using its mall and coupon codes to shop online.
A few special features stand out. Every Tuesday, SavingStar introduces a new Healthy Offer of the Week that gives you money back on designated fruits and vegetables.
Friday Freebies give 100% cash back on a new product every Friday. SavingStar also offers high-value deals that let you save $5 if you buy a certain amount of a particular brand in one or several store visits.
Chippmunk
This coupon search engine lets you search for online coupon codes according to your budget, department, store or type of offer (coupon code, sale or free shipping).
Narrow your results according to delivery area, payment type and estimated delivery date. When you search for a particular brand, Chippmunk also shows you competitor deals. (When you're looking for Chippmunk, note the double Ps in the name.)
PointsHound
While it's not a coupon tool, the PointsHound website lets you earn points, miles and even digital currency when you book a hotel room at one of more than 150,000 properties around the world.
It's worth checking out, since hotel rooms cost the same through PointsHound as they would booked via Expedia, Travelocity, Orbitz or direct booking — yet you can tell the platform to translate the credit from your stay into one of 11 loyalty programs including several frequent flier programs, your My Best Buy account or even into a Bitcoin wallet, where you can accumulate digital currency to use to buy things online or at a growing number of physical stores.
These 10 tools only scratch the surface of the digital tools available for saving money. Which are your favorites?