Updated on 3/17/2023 to remove AmazonSmile program, which ended February 20, 2023.
Wish you could contribute more to worthy causes? You can just by shopping online for your holiday gifts. There are retailer-specific programs that donate a small percentage of the purchase price to charity, as well as charity sites that let you easily shop at a wide selection of retailers and donate to charity on your behalf.
While programs like AmazonSmile are corporate giving programs, the charity sites work slightly differently. These sites receive money every time you click through to a retailer and send a portion of that money to the charity of your choice.
To use the charity sites, you'll need to create an account to select your cause. In your account, you can see how much money you've donated and use the site to track your donations for tax-deduction purposes (check with your accountant). However, keep in mind that you are bound by the IRS limits on gifts without a receipt directly from the cause.
Ready to start shopping and giving? After researching the charitable shopping options, I found three sites that I recommend. Each offers high donations, as well as a variety of products and services.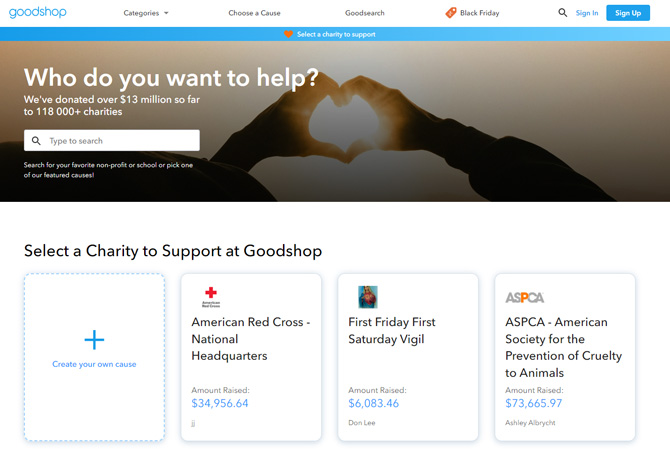 Goodsearch and Goodshop
You use this search engine the same way you'd any other; in fact, it's powered by Yahoo. The only difference is that Goodsearch donates to charity every time you search. For each search, your charity earns the lesser of $0.01 or 50 percent of the revenue GoodSearch earns from Yahoo for things like sponsored search results.
More than 110,000 nonprofits are included in the Goodsearch network, and if the school or organization you would like to help isn't there, you can apply to add it.
Within the GoodSearch family of products is also Goodshop, an online shopping mall that includes well-known merchants such as Amazon, Expedia, and Staples. Whenever you use the GoodShop mall and buy something, a donation anywhere from 0.05% to 17% of the purchase price goes to the charity or school you've chosen. That's half of the referral fee that Goodshop receives. The retailer determines the percentage of the donation.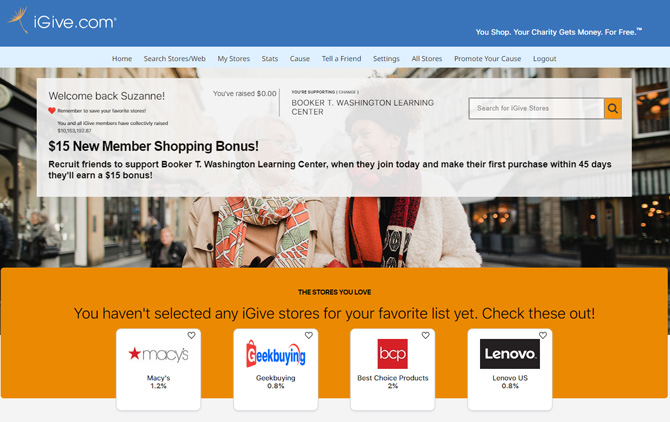 iGive
Like Goodshop, iGive receives a portion of your purchase back from the retailer. You decide which charity you'd like to support, and fees will be sent monthly. It's easy to keep track of your donations in the handy online dashboard. There are more than 2,400 retailers to choose from when shopping and it's easy to see how much you'll be donating as you scroll through your options.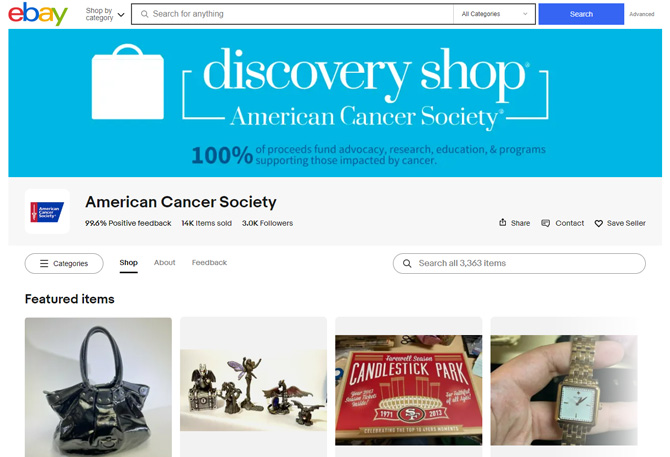 eBay for Charity
If you're looking for the perfect gift on eBay, check out the Charity Shop section. There you'll find special events that give back to specific charities. Plus, you can browse by categories of products, including fashion, electronics, tickets, and more. Every seller in the Charity Shop has chosen to donate 10-100 percent of the final sale price (or as low as one percent for eBay Motors) to a certified charity. At the bottom of the item listing, you'll find the donation percentage and the charitable organization's name.
Worried about a charity's reputation? Follow my steps to spotting a charity scam before you donate.
Updated on 11/15/2022 with current donation policies and screenshots.
[Image credit: screenshots via Techlicious, photo via SmartMockups]
For the past 20+ years, Techlicious founder Suzanne Kantra has been exploring and writing about the world's most exciting and important science and technology issues. Prior to Techlicious, Suzanne was the Technology Editor for Martha Stewart Living Omnimedia and the Senior Technology Editor for Popular Science. Suzanne has been featured on CNN, CBS, and NBC.