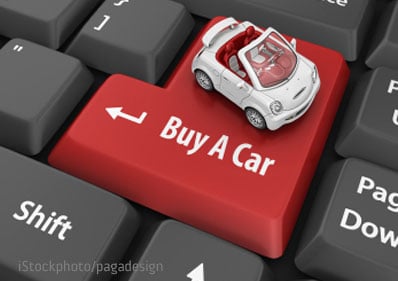 It's been a long time since I've had to buy a car. In fact, 10 years have gone by and though my trusty Nissan Altima has been reliable, the last few years have seen one too many visits to the mechanic. Now that I'm in the market for a new car, I've been pleasantly surprised at all the great resources available on the web to help me get the best deal that weren't around the last time I went through this process.
Where I used to have to drive around to dealers with a Kelly Blue Book in one hand and a Consumer Report annual car guide in the other, I can now do my research online before I even step foot on a car lot. Which is a huge relief to me when it comes to the dreaded haggling. While there are those who enjoy the bargaining process, I just want to get to the bottom line—at the best price.
Now you can do everything online but sign the final papers. Here's the best sites to help you find the car you want and get the best deal.
Researching the right price
Before you buy, it is critical to arm yourself with information about the actual dealer cost. Dealer cost is the invoice cost for the vehicle and any options, less any current manufacturer to dealer incentives and "holdbacks," which are special payments dealers receive for each vehicle they sell. Never negotiate down from the inflated MSRP (the Manufacturer's Suggested Retail Price, often called the "sticker" price); this is a trick dealers use to make you think you're getting a deal, but it ignores the huge mark-up the MSRP represents over the dealer cost.
Edmunds and Kelley Blue Book (KBB) are both highly respected names in the auto valuation business and offer detailed pricing reports that provide complete insight into dealer cost for any car, including options and dealer incentives. Both online tools will take you through those options.
Kelley Blue Book's "Reality Check" not only lists the MSRP but also knows what the car is actually selling for across the country. This calculator is available on the front page of KBB.com.

Edmunds "True Market Value" calculator does a similar job, but asks for your zip code to make sure it's returning local results. While this sounds ideal, you have to endure constant pop-ups asking you to submit your personal information for dealer quotes when you are still in research mode. However, if you ignore that, you can get a break down of costs for the car of your choice.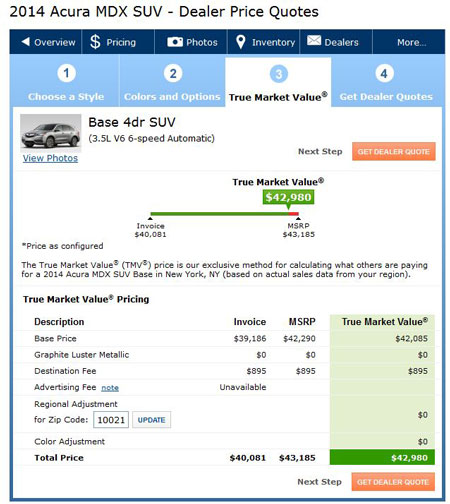 We recommend you try the free calculators at both sites to get a range for what the car is actually selling for.
Getting the best quote
Once you know the price you should be paying, it's time to let the dealers compete for your business. There are few ways to go about this that avoids you having to haggle at the lot when confronted with high-pressure sales tactics.
1) Use Edmunds and KBB to submit a quote request to dealers in your area directly from their sites — no need to go into the dealership and listen to a hard-sell from some shady salesperson. Be warned: Your contact information will likely be sold to local dealers as sales leads which could result in unsolicited emails and phone calls. Not so great in an age where our privacy and personal info is already being collected with and without our permission.
2) Many dealers have special "Internet sales managers" to handle your request. Call the dealership directly and ask to speak to them or look for the dealer's website. The Internet sales managers have the most flexibility to give you the best price with the least hassle. They can also arrange test drives, which, of course, is a must before you buy any vehicle.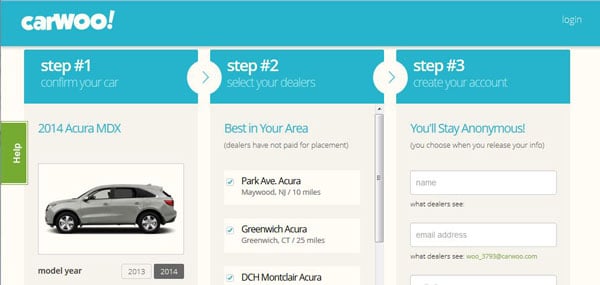 3) Use an online car broker. Popular ones include:
CarWoo! which doesn't reveal your contact info to the dealer until you've selected a specific quote to move forward on. This service is free. The company is paid through partnerships with dealers where they provide information about their car sales that don't include your personal info.
CarsDirect which will not only find the car you are looking for, they will handle all negotiations and arrange for you to pick it up from them or have it delivered to you. The CarsDirect service is free. They get paid by volume, not commission.
TrueCar is a service used by Consumer Reports, American Express and other large corporations to find car deals for their members. The service is available to anyone via TrueCar's website.
Which one is right for you? Unless you are concerned about these services selling your personal info (all but CarWoo!), then we recommend choosing at least two of them to get different quotes to compare. The online car brokers may come back much lower than the dealer costs or maybe the local Internet sales manager can give you a great deal on the spot to move some inventory. If you use all three, the local dealers will be getting requests from all of them at the same time and will likely just keep sending out the same price.
Special considerations for leasing
If you're planning to lease your vehicle, negotiating the price is just as important. The monthly lease cost you see advertised in the newspaper or at the dealership is almost always based on the car's sticker or MRSP price. Negotiate down the price, and you're also negotiating down the basis for the monthly lease payments. However, lease contracts can be quite complex and a number of factors will influence the amount of your payment. These 10 steps to leasing a new car will help guide you.
Good luck and have fun with your new vehicle!