The best part about digital cameras has always been the instant gratification of being able to view your shot right away. In fact, I usually spend more time viewing and editing photos while they're still in the camera than later on my computer.
Knowing this, camera manufacturers have added more beauty-enhancing, picture-taking modes and editing features to their cameras.
Many cameras today have a mode called "Soft Skin" for improving skin texture and minimizing wrinkles. The mode makes use of the camera's face-recognition technology to identify faces and then softens the focus for any skin-tone areas. Soft focus means you lose detail, which in this case includes wrinkles. The mode also ensures that the shot is exposed properly for the face in the frame to minimize harsh shadows.
If you find your camera is capturing a little too much detail of your skin, be sure to try Soft Skin mode. I've found Soft Skin mode does wonders for my skin, especially for close-ups, and it leaves the rest of the picture intact. You can always retouch your photos later, but why bother when you can get good pictures right out of the camera?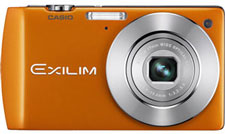 Casio goes one step beyond with "Make-up Mode" on its Exilim EX-S200 ($99.99 on Amazon.com). You can adjust the amount of "skin beauty" as they call it, on a scale of 1 to 12 and preview it on the camera's display before taking the picture.
Once you've taken your photos, Panasonic offers in-camera retouching on its Lumix DMC-FP7 ($169.95 on bhphotovideo.com). In cosmetic mode, you can remove skin imperfections, whiten your teeth, slim your face and remove shine from it as well. You can also apply makeup. There are palettes for foundation, lip color, blush and eye shadow. You can see how it works on Panasonic's Lady Lumix site.

The makeup mode is more fun than practical. But I can definitely see teens and even tweens having fun with this.
So relax the next time someone urges you to "say cheese." Today's cameras are capable of capturing and revealing astonishing levels of detail, but they can also be kind to our less-than-perfect skin. And if you do happen to run out the door without your lipstick on, you'll always be able to apply it virtually later.