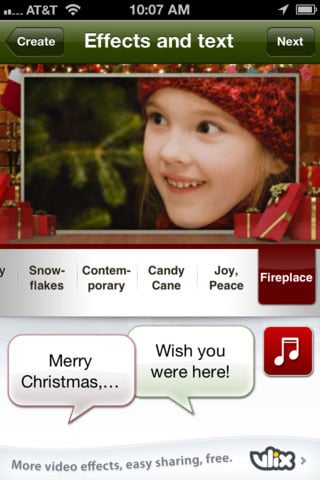 My kids love their holiday presents, but getting them to express their enthusiasm in written thank you notes is always a challenge. So this year, I'm trying something new. I'll be using my iPhone to take short videos of my kids thanking the gift giver right after they open each present.
Using Holiday Video Cards by vlix (Free in iTunes), I can add opening and closing text to the video. So I can entitle it "Thank you Grandma" and end it with a personal sentiment from my child. I can also choose a theme, which adds music and a frame. Or, I can go in to mix and match from a selection of 18 frames and 16 music tracks. Videos can be up to one minute long and I can take them with the app or capture them with my iPhone's camera app.
Then it's simply a matter adding a title to my video and choosing a method of sharing my child's thank you video card. I can send it via email, post to Facebook, YouTube or Twitter and save it to my iPhone.
If you have an Android phone, try Qik (free in Android Market). The app doesn't have the holiday frames and music, but it will let you send video mail if you subscribe to Qik Premium for $4.99 per month.