Whether you're getting quotes from car dealers, setting up an online dating account or returning a work call from your personal phone, there are times when keeping your phone number private makes sense. Fortunately, there are options for short term anonymous "burner" numbers, virtual phone lines and caller ID blocking. Here's what I recommend.
1. Use a Temporary "Burner" Number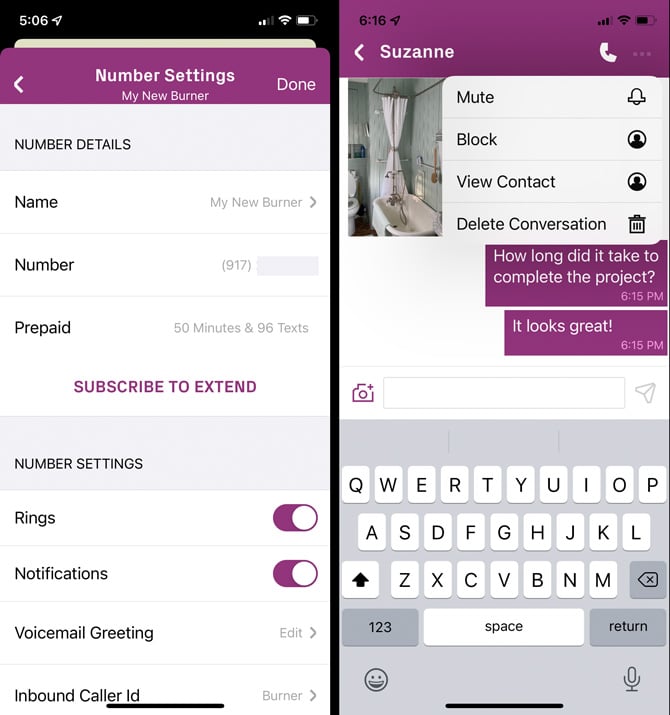 I like Burner (available for iOS and Android) for a temporary disposable number. Using Burner is almost like making and receiving regular calls. When you make a call using the Burner app on your phone, the app calls your Burner number and then adds the number you're calling. It happens almost instantaneously, so you won't notice unless you look at your screen. The person you're calling sees your Burner number. When calls come in, the caller ID can show the caller's number or your Burner number, and you'll be prompted to accept the call before you're connected to your caller. You can turn on and off the ringer and set up a custom greeting for callers for each Burner number. By default, Burner uses Nomorobo to reduce spam calls.
The price options are different for Android and iPhone users. Android users can get a free trial for seven days and then pay $4.99 monthly for a single line with unlimited calls and texts. iPhone users don't get a free trial. Instead, they can opt for a $4.99 pre-paid month of service that includes 100 texts and 50 minutes of calls and then automatically "burns" your number, or they have to pay $14.99 per month (or $139.99 per year) for up to three lines of unlimited calls and texts. Subscriptions are handled through Google Play or the App Store, and you can cancel anytime.
2. Use a Free Long-Term Private Number
For a more permanent calling solution, I recommend Google Voice. You get unlimited calling within the U.S. for free as well as voicemail, call screening, and do not disturb, among other features. You'll need a smartphone or computer with Internet access and the Google Voice app (free for iOS and Android) to receive a call or text. Or, you can forward all your Google Voice calls and texts to an existing number. Outbound calls made with the Google Voice app will show your Google Voice number instead of your actual number.
3. Block Your Outbound Caller ID
If you don't want to use a disposable phone number, you can block your outbound Caller ID for a single call by dialing *67 before the number (you'll need to use the country code, so it would look like *6712125551212). Your number will appear as unavailable.
You can also block your number permanently on your phone. For Android phones, open your Phone app, tap the Menu icon (triple dots), select Settings > [Calls] > Supplementary Services > Show your caller ID and choose "Never." For iPhones, go to Settings > Phone > Show My Caller ID and toggle it off. If you have a VOIP line, you can turn off the outbound caller ID in your phone management software.
You may not want to block your caller ID because some people choose to set up their phones to automatically block incoming private numbers or choose not to answer calls when the caller is listed as "Private" or "Unavailable."
[Editor's Note: *67 will not work when calling toll-free numbers (800, 888, etc.) and emergency services, like 911.]
While I value openness – even when it comes to caller ID, I can see real value in protecting my privacy in a situation where I would be dealing with strangers. It's safer and smarter.
Updated Burner pricing and package information and added instructions on blocking outbound caller ID on 9/7/2022
[Image credit: screenshots via Techlicious, woman checking phone via BigStockPhoto]
For the past 20+ years, Techlicious founder Suzanne Kantra has been exploring and writing about the world's most exciting and important science and technology issues. Prior to Techlicious, Suzanne was the Technology Editor for Martha Stewart Living Omnimedia and the Senior Technology Editor for Popular Science. Suzanne has been featured on CNN, CBS, and NBC.