Sometimes even the smallest audio speakers just don't blend with a home's décor. But that doesn't mean music to the ears must strain the eyes. From ottomans to ceiling fans, a wide variety of home furnishings and fixtures now are hiding speakers in the most inconspicuous—and surprising—places. Read on to discover them here.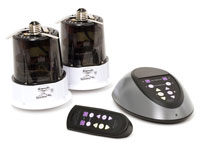 Klipsch LightSpeaker
The LightSpeaker from Klipsch is a remarkable new LED light bulb that also plays sound it receives from a wireless transmitter hooked up to an audio source, such as an iPod or a laptop computer.
Two different audio sources can be transmitted to LightSpeakers in separate rooms—for example, send music from an iPod to a floor-standing lamp in the living room and songs from a laptop to a ceiling fixture in the kitchen—and the LED is dimmable, to help complement the music with mood lighting.
A bundle of two LightSpeakers, one transmitter and a remote control costs $599, and additional LightSpeakers cost $249 each. Pre-order at Crutchfield.com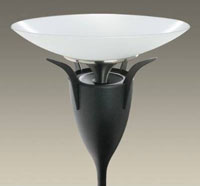 Soundolier Duo
This torchiere lamp doubles as a speaker. The Soundolier Duo Wireless Speaker Lamp hides a 5¼-inch full range wireless speaker in its pole, and disperses audio 360-degrees around its location in the room. Set the speaker to "mix" for blending a stereo input into a single channel output, or set it for discrete "left" or "right" speaker use—and then use two lamps as surround sound speakers in your home theater room.
Audio is received wirelessly from the matched Soundolier Maestro wireless digital audio transmitter, which connects to any audio source, can be as far as 300 feet away, and works with an unlimited number of Duo lamps.
Additional input and output ports at the base of the lamp let you connect another audio source as well as a subwoofer for better bass.
Buy the Soundolier Duo and Maestro together for $380, or buy the Duo alone for $300. Buy Now at Amazon.com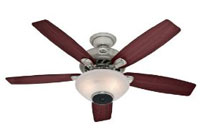 Hunter Concert Breeze
Music rides like the wind with the Hunter Concert Breeze Fan & Sound System. This is a ceiling fan that hides a speaker inside its light fixture, and also works with the Soundolier Maestro wireless digital audio transmitter—to disperse 360-degrees around the room from above. A slim, credit card-sized remote control adjusts both the sound level and light brightness level.
Two Concert Breeze models are available, one rated for indoor or outdoor use, and the other for indoor use only. Each sells for $425 (retail price is $599). Buy Now at Amazon.com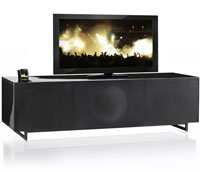 GenevaSound Home Theater
It's a home theater sound system concealed in a stylish sideboard table made of hand-lacquered wood. The GenevaSound Home Theater contains seven speakers (each powered by its own 100-watt amplifier), a 12-inch subwoofer, FM radio, CD player and iPod dock. There's also storage space for audio-video components such as a cable box or DVD player. A universal remote control is included, along with free shipping and in-home setup.
Available in black or white for $4,000. Buy Now at GenevaLab.com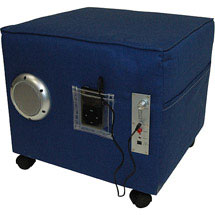 MP3 Rock Box Ottoman
Kick up the volume as you kick back with the MP3 Rock Box Ottoman, which features built-in speakers, an input jack for plugging in your digital audio player, and storage pockets. Upholstered in a cotton-poly duck fabric (65 percent cotton, 35 percent polyester), with polyester foam padding and a solid wood and plywood frame.
It is available for $100. Buy Now at Walmart.com