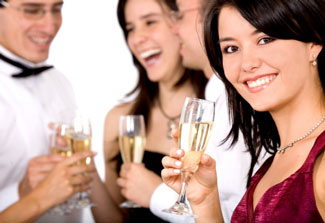 Last weekend we celebrated my mother-in-law's 70th birthday with 40 assorted friends and relatives. And as with any large happy gathering--be it a wedding, birthday, family reunion--there was the buzz of lively conversation, kids running around and babies being admired.
Rather than take on the task of becoming the sole videographer at such events, a better option is to invest in a few inexpensive high-definition camcorders and put your guests to work.
The key to getting good material is to make sure all the various groups attending your party get a camcorder and a short, specific assignment. This should avoid overlap, over-coverage of one part of the event, and under-coverage of other parts. After it's over, you'll have a complete record of your entire event, so you can re-live it from different vantage points from start to finish. Best of all, you'll not only enjoy your party but you'll be in the videos as well.
For a wedding, I'd recommend the following.
Arrivals: Have two camcorders for arrivals--one for the bride and one for the groom's side of the family.
Ceremony: Have a camcorder assigned each highlight of the ceremony, such as the bride walking down the aisle, exchanging vows and special readings. Make sure these get divided up between friends and family on both sides.
Receiving line: Have one camcorder assigned to the receiving line and if the reception is in a different location, the bride and groom leaving for the reception.
Reception: Have one camcorder assigned to each planned event: the toasts, first dance, father-daughter dance, tossing the bouquet, cutting the cake.
Each camcorder can have more than one task assigned to it. Just make up some laminated tags with a few assignments and attach them to the hand-strap loop. For weddings, you can also label them with a table number.
With all of this great video footage, you may find that you don't have to hire a professional videographer.