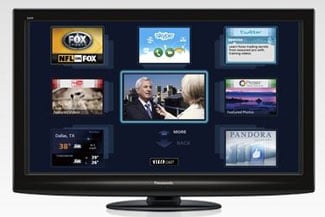 From family photos to Netflix movies to your Twitter feed, there's plenty of great content on the Internet that you could be enjoying right now on your TV.
With an Internet-enabled TV or Blu-ray player it's easy. They're already loaded with apps specifically designed for the big screen. All you need to provide is broadband Internet access through your home's wired or wireless network.
Once you're hooked up, you simply press the Internet app button on your remote control. Each manufacturer has a unique name for its service, so be sure to check. For the demo in the video below, I'm using a Panasonic VIERA TV and I'll be accessing the VIERA Cast service.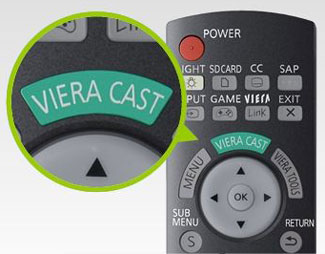 Pressing the VIERA Cast button brings up a menu of apps. For instance on this first screen there are tiles for Twitter, YouTube, Netflix, Amazon VOD, Skype and Picasa, a photo sharing service.
You'll be accessing the same content you would through your computer, so the first thing you'll need to do is sign into your existing account. Some services, like Netflix, also require you to register your TV or Blu-ray player. This usually entails entering a string of letters and numbers on the TV into your account on the computer.
Once you're signed in, you can point and click your way through the application.
For instance with Twitter I can see all of the posts from people I'm following, check out trending topics and even compose my own post. You can use the virtual onscreen keyboard or connect a wireless keyboard to make entering text easy.
Or a huge favorite in our home is the Netflix app. With an $8.99 monthly Netflix subscription we can watch an unlimited number of movies and TV shows on our TV by using the TV app. Select the video you want to watch and it will start playing. Some even stream in HD.
These are just a couple of the great apps that are available. All you need to get started is an Internet-enabled TV and broadband internet access.