If buying a TV isn't confusing enough these days, the leading TV makers seem to be playing "can you top this?" at this year's CES. They've unveiled a host of new 8K TVs that best last year's 4K sets, despite there being nothing to watch in 8K yet — and still precious little in 4K. On top of that, there there are new, odd configurations of 4K TV, including a screen that rolls up and down into an aluminum box and a screen that comes in pieces.
The three leading TV makers – Samsung, LG and TCL – all announced plans to bring a variety of 8K models to stores this year. These intentions raise both eyebrows and questions — for instance, what exactly is 8K? Since TV resolution is measured in both height and breadth, 8K actually offers four times the resolution of 4K. That means 8K offers 33 million pixels instead of the 8 million offered by 4K (standard HDTV displays 2 million pixels).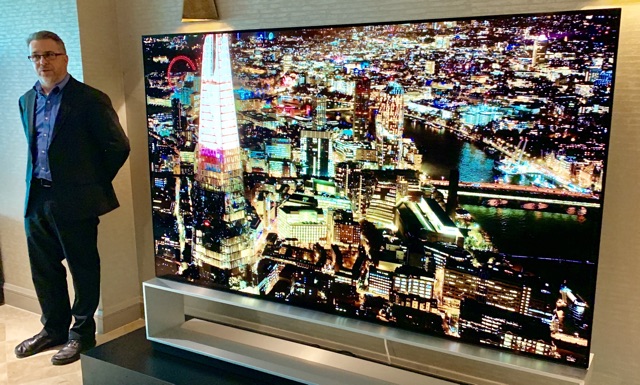 The 8K TV lineup
Samsung was the first to start selling an 8K TV with its 85-inch Q900, which went on sale late last year. This year, the company will vastly expand its QLED 8K lineup with 65- , 75- , 82- , 85- and 98-inch models, all of which are available for pre-sale now. All the 8K models are endowed with Samsung's contextual Bixby voice assistant, which answers questions and performs the usual personal assistant functions like Alexa. But it can also locate and play content, control TV functions via voice command, and control compatible smart home devices.
Not to be outdone in 8K quality (if not quantity), LG unveiled two different 8K technologies. The OLED Z9 is an 88-inch model that the company previewed at the IFA show last summer. The 4mm-thin OLED will mounted atop a unique silver rectangular frame box base that somehow doubles as an acoustic chamber for improved sound, into which one presumably could place video components such as a cable box, AV receiver and a Blu-ray player.
Then there's the four LCD LED models that employ the company's NanoCell coating technology to enhance blacks and broaden the number of colors the set can display. There will four LG NanoCell model sizes: SM80, SM85, SM90 and SM95, and all support the latest HDMI 2.1 specification for 120Hz High Frame Rate (HFR).
All the LG 8K sets are due to appear at your favorite retailer later this year. While pricing was not announced, we can speculate that the OLED will likely cost somewhere in the fancy $20,000 neighborhood, the NanoCell models appreciably less.
TCL, meanwhile, is bringing its 8-Series 8K TVs in a 75-inch version, and perhaps "other larger" sizes to the U.S. market after starting to sell them in Europe and China late last year. TCL's 8K sets will include QLED and Quantum Contrast technologies, along with the company's Q Contrast technology, which the company claims can delivers up to 300% more contrast control zones than seen on previous TCL TVs, thanks to a new kind of LED backlight.
TCL's 8K sets also will be imbued with either Android or Google Assistant as well as smart Roku streaming content, with voice search and control capabilities to let you naturally talk to your TVs.
The new TCL 8K models will support both standard HDR10 (so-called "open" HDR) as well as Dolby Vision, and next-generation HDMI 2.1 connectivity. When you'll be able to buy and for how much has yet to announced.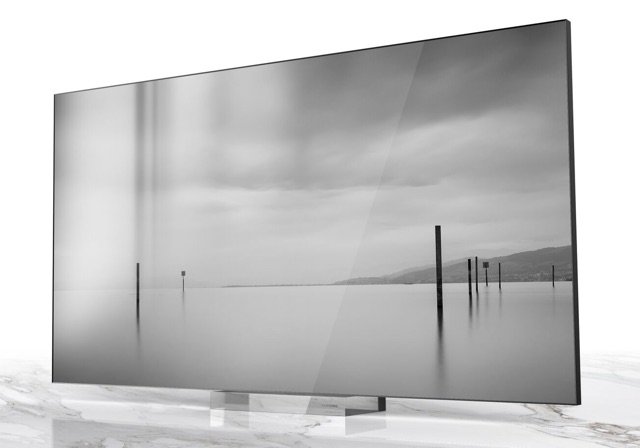 What Can You Watch on 8K?
At CES, Samsung, LG and TCL are demonstrating their highest-resolution wares with gorgeous, starkly-colored landscapes and urban cityscapes. The slightly-moving still lifes on these sets make you want to reach out and touch their vivid reality.
But other than this demo footage, there is no 8K content you'll be able to watch. There's also none on the projected horizon other than perhaps the 2020 Tokyo Summer Olympics — which only Japan's NHK has announced plans to broadcast in native 8K. There is no 8K Blu-Ray format planned and no Hollywood studio has announced any 8K streaming content, primarily since it would take more powerful wireless networks — such as 5G — to transmit it. But 8K TV marketers refer to 8K content as a "when" rather than an "if."
Since there's no 8K content to discuss, at least at the moment, all three 8K TV makers are instead touting their 8K TV's advanced upconversion capabilities. This feature vastly improves how 4K, HD and especially DVD – which often looks terrible on a 4K TV – look on those 33 million pixel displays.
So if there's no 8K content, why bring out 8K TVs? 8K content will eventually come, these sets will future-proof your home entertainment center — and make your existing media look better in the meanwhile.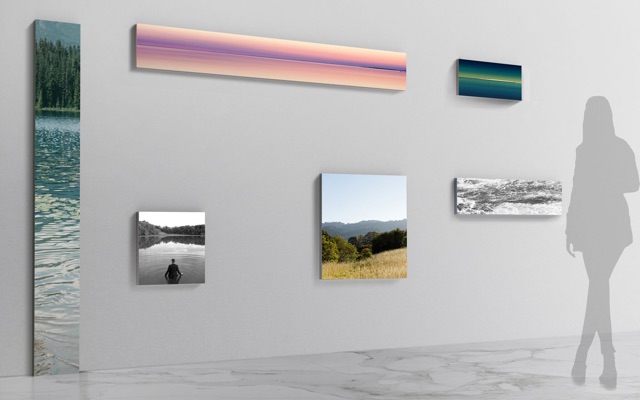 4K TVs arrive in new shapes and sizes
Both Samsung and LG are bringing new shapes of 4K to market later this year. LG arguably revealed the most startling TV since its own wallpaper OLED TV a couple of years ago: the OLED TV R. It's a roll-up 65-inch 4K OLED TV that rigidly arises out of an oblong aluminum box, then slides back in again like an upside-down mechanical window shade.
The OLED TV R's screen can either completely disappear inside its housing, or reveal only a "line view" in which a foot of screen peeks up from its case. This reduced-sized screen can show controls for music playback, a clock/weather display, images like a digital photo frame, "moods" that play visual soundscapes such as the sparks from a fire, and a smart home dashboard. The futuristic box in which the OLED screen is rolled up doubles a 4.2 surround speaker system.
Like its 8K sets, LG says the OLED TV R will be available in the second half of the year at an undecided — but likely to be high — price. Our guess is around $20k.
For Samsung's part, instead of making TVs less obvious in a room the company aims to make its new 75-inch Micro LED 4K TV part of your room's landscape. Micro LED is a modular TV with a large screen that's comprised of flat rectangular modules that fit together like a tile wall, sans bezel (or frame), to create a seamless whole. The screen can be configured as a standard rectangular 16:9 TV shape or in any odd variation one desires. Packed inside each module are pixel chips, each with three sub-pixels — which is one sub-pixel for each primary color.
The 75-inch home Micro LED set is made up of smaller and thinner rectangular modules than the commercial screens Samsung is showing off on the show floor. Each panel is around a foot high and a little wider across and around an inch thick, full of tightly-packed pixel chips.
Samsung believes Micro LED is the future of large displays because, like OLED, Micro LED offers perfect blacks since each pixel is individually controllable. But Micro LED uses less power than OLED, emits less heat, and doesn't suffer from the potential of image burn-in that OLED does. In addition, Micro LED offers what Samsung has dubbed "four freedoms" (with no apologies to Franklin Roosevelt):
Size, since Micro LED lets you add modules to create a TV of theoretical infinite size
Ratio-free, meaning you can rearrange the modules into unlimited shapes and configurations
Resolution-free, since adding modules increases resolution, again, to the theoretically infinite (presuming that the technology continues to progress resulting in even smaller and more tightly-packed pixels in future versions)
Bezel-free, because Micro LED requires no frame.
In its current state, however, Micro LED sets don't bear up under closer inspection. Unlike OLED and LCD LED, Micro LED's pixel makeup and its module seams can be discerned from a few feet away. From a bit further back, however, a Micro LED image yields impressive OLED-like vivid color and deep black results.
But don't start lining up for Samsung's 75-inch Micro LED. The press was shown prototypes and the company wouldn't say when – or even if – the TV would come to a retailer near you.
[Image credit: LG, Samsung, Stewart Wolpin/Techlicious]