Last week at the IFA electronics fair in Berlin, Germany, the world's top three TV sellers, Samsung, LG and TCL, all announced 8K TVs. Samsung's sets will start selling this fall, TCL's next May, and LG's – unknown.
These high-profile 8K announcements don't mean you need to chuck those plans to buy a 4K UHD, or chuck the 4K set you just bought. Especially since the first editions of 8K, like the first generations of regular HDTVs in the late 1990s and 4K UHDs five years back, will run in the $8,000-$12,000 range. And, you won't get the full benefits of an 8K TV for years.
What is 8K?
Just as 4K UHD TVs display four times as many pixels as Full HD HDTVs — 2 million pixels to 8 million — 8K has four times as many pixels as 4K — from 8 million to a whopping 33 million. The result is a nearly holographic enveloping image. It's enveloping because you can stare at an 8K TV from just a couple of feet away and not see pixels. 8K sets will enable even larger screens that you can sit even closer to than 4K.
The 8K TV Choices
Samsung will be first to market with 8K TVs — and possibly the only 8K TVs in the U.S. for a while. There is one U.S.-bound Q900FN QLED models: an 85-inch set likely priced at $10,000-plus and available in October, and 82-, 75- and 65-inch versions scheduled to go on sale in elsewhere in the world.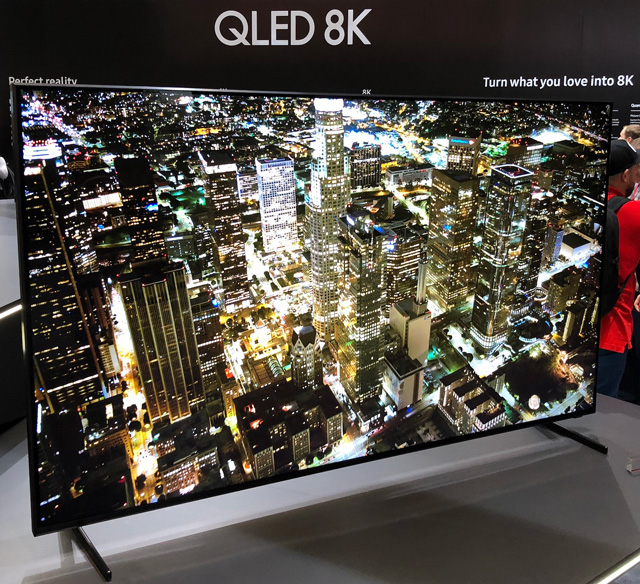 Samsung's 8K set employs the company's quantum dot technology, which enables the incredibly high peak brightness (4000 peak nits, the brightest on the market) and the widest possible color range. You'll also get the latest HDR (high dynamic range) contrast technology, the new HDR10+ format promoted by Samsung, Panasonic and 20th Century Fox, and full-array backlighting to ensure deep blacks in dark scenes and smooth colors in brightly-lit scenes. The TV has the most zones of any Samsung set, making a video of fireworks look great -- very black blacks and crisp highlights.
TCL will start selling its special-edition FIBA Basketball World Cup 2019 75-inch quantum dot 8K set, the X8S, next May in Europe and Asia (price not announced); whether it will be sold in the U.S. is as yet unknown. In addition to its dense 8K image, the FIBA set will be equipped with an integrated Dolby Atmos Onkyo smart soundbar with Google Assistant, which can provide voice information and home control even when the set is turned off.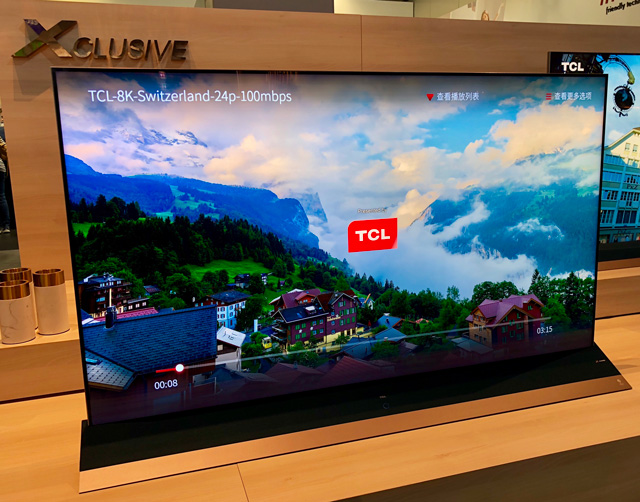 For true video snobs, LG announced an 88-inch OLED, a technology that requires no separate backlighting, which results in pure blacks that make colors leap out of the screen. But the company says that it unveiled its 8K OLED set to merely gauge market interest, smartly citing the lack of content and sky-high price, with no plans as yet to actually sell it anytime soon.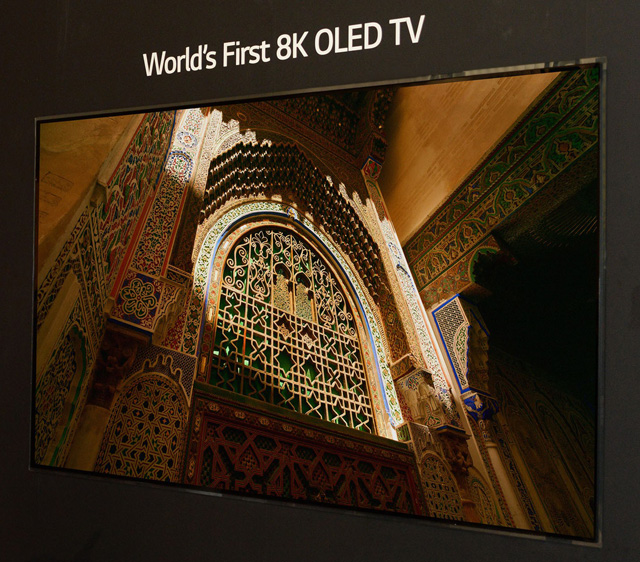 There is nothing to watch in 8K
So what can you watch in 8K? Well, basically nothing except a few videos on YouTube. And there'll likely be nothing for a long, long time. No one but Japan's NHK is planning any 8K TV. Experimental broadcasts are due to begin in just a couple of months, so there could be content in 2020 for the Tokyo Olympics. No U.S. TV broadcasters, no cable or satellite providers, no Hollywood studios, and no streaming video services are planning any 8K content. And there's not enough room on a Blu-ray disc for two hours of 8K, and the Blu-ray Disc Association is not working on an 8K version.
With no 8K content to hawk, all three TV companies are instead touting their 8K sets abilities to upscale, to convert lower-resolution DVD, HD and 4K content into shimmering 8K.
At its IFA booth, Samsung demonstrated its 8K sets' impressive upscaling processing muscle, although the results of such a self-serving demo are commensurate with trusting a used car sales pitch. DVD quality material (720 x 480), which often looks terrible on 4K TVs, was vastly improved on the Samsung 8K set compared to upconversion on a 4K TV, with smoother edges, most noticeable on text. There was less obvious improvement from 1080 upconverted to 4K compared to upconverted to 8K, with slightly sharper details and brighter, more vivid color and more image depth. Improvement of 4K upconverted to 8K was slight and barely noticeable. "Upconversion will never be able to add or create information that is not there," notes Paul Gray, research director for market research firm IHS Markit.
Even if upscaling results are as impressive as presented, is upconversion to 8K quality worth 100 times the price of a current 4K TV?
"Because 8K televisions are still struggling to provide a sufficient value proposition for the vast majority of consumers given their premium price points, lack of 8K content and slow traction with U.S. cable and satellite providers, they're still very much a luxury purchase," opines Mark Vena, senior analyst at Moor Insights & Strategy, a high-tech consulting firm. "For the foreseeable future, 8K may be a 'spec too far' for most consumers as today's 4K TVs are just too competitive from a value standpoint."
Which means these early 8K sets will be snapped up only by well-heeled techies for the questionable boast of being among the first to own a piece of the future. The rest of us can shake our head at this useless expenditure, and comfortably wait a few years without any loss of tech prestige until there's something to actually watch in 8K.
[Image credit: LG, Stewart Wolpin/Techlicious]