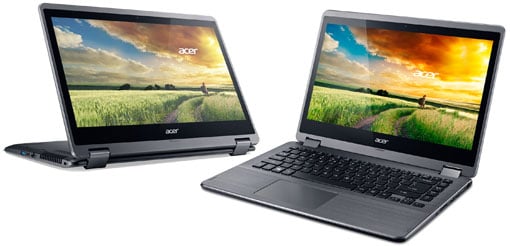 If you can't decide between a laptop and a tablet, Acer has you covered. The Taiwanese company showed off a slew of convertible products at the IFA tech conference in Berlin this week, as well as some stand-alones covering all price ranges.
Acer's president of PanAm operations, Emmanuel Fromont, told us touch, two-in-one technology and screen size options are strong trends in today's market. From convertible and detachable devices and 10-inch, 11-inch and more sizes, he says Acer is aiming to hit all the niches. Acer's ability to quickly refresh its products helps it bring strong value at every price point, he says.
Acer has introduced hybrids, notebooks and tablets just in time for the holiday season. If you're looking for the power of a laptop plus the portability of a tablet, the R13 convertible offers a 360-degree dual-torque hinge that can rotate 180 degrees and adjust to six different modes. It comes with an Intel Core i5 or i7 processor and a solid state drive, with screen resolution in either full high definition or super-high resolution. The R13 weighs in at about 3 pounds.
Another Acer, the Aspire Switch 11, is a full Windows 8.1 notebook with a display that easily detaches from the keyboard, thanks to a magnetic detachable snap hinge. You can choose to view the display in notebook, tablet or tent mode. Watch our hands-on with the Aspire Switch 11 in the video below.