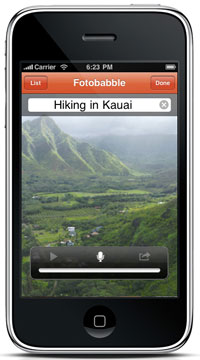 Add voice notes quickly and easily to your photos with the Fotobabble app, available on the Fotobabble website or as a free iPhone app. Then share them with a single click to Facebook, Twitter, MySpace or through email.
To create a Fotobabble, you simply select a photo, give it a caption and record your voice note. With the iPhone app, you can take a photo from within the app and then caption it. My son Zach created the one below.
The photos are saved on the Fotobabble website, where ou can choose to make them public or private. It's a great way to share life's moments as they happen--with a soundtrack.
Download the app from iTunes or Fotobabble.com.