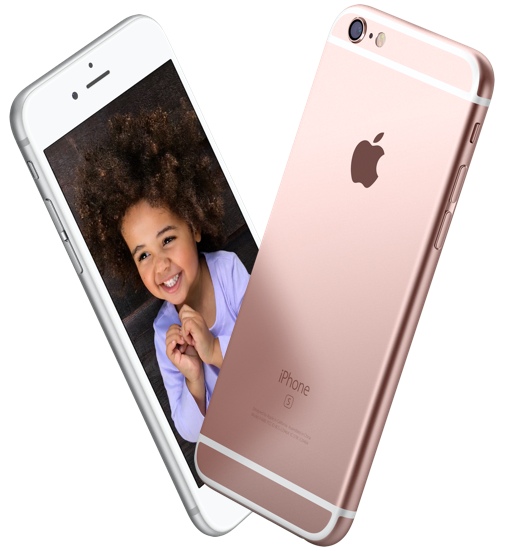 As expected, Apple today officially unveiled its iPhone 6S and iPhone 6S Plus smartphones. The new devices, expected out September 25, boast improved processors, better cameras, 3D Touch functionality and more.
The big new feature on the iPhone 6S is called 3D Touch. It's an advanced new touch-recognition technology that can tell the difference between quick taps of the finger, regular taps, long presses and more. These distinctions allow for new functionality – you can post to Facebook and Instagram right from the iPhone 6S's home screen. Switching between apps can now be accomplished by swiping your finger from the left-hand side of the screen with some force. There's a built-in haptic feedback system too – when you press your phone's screen with your finger, it will vibrate so you feel the press. The technology is more than a gimik, it really enhances the functionality of the iPhone 6S.
Big camera upgrades are in store for iPhone 6S and 6S Plus buyers. The main camera has been bumped up to 12 megapixels (from 8 MP) and can now shoot video in 4K resolution. The front-facing selfie camera, meanwhile, has been bumped to 5 megapixels and now has its own flash—the screen, which flashes at 3 times its usual brightness. These cameras now produce better color, and work well even in mixed natural light/artificial light conditions. Photos are saved by default as Live Photos, 12-megapixel snapshots with bonus video and sound attached. With Live Photos, when you press down on a picture you've taken you can see a brief video showing the moments before and after you took the shot. (Apple says that Live Photos don't take up a significant amount of storage space.)
There are a ton of upgrades to the phone's internals, as well. The new A9 processor (and M9 motion co-processor) is 70 percent faster than the A8 used in the iPhone 6, while its graphics performance is 90 percent faster. This means you get quality-of-life improvements right off the bat – TouchID validations now happen twice as fast.
Physically, the new phones look a lot like their predecessors. The iPhone 6S is the same 4.7-inch size (1334 x 750) as the iPhone 6; the iPhone 6S Plus measures 5.5 inches (1920 x 1080). Apple is using a new aluminum alloy for body construction, now available in a new rose gold color in addition to your standard gold, silver and space gray choices. Expect the new phones to be slightly weightier by about half an ounce, too.
Both the iPhone 6S and 6S Plus run iOS 9. The new operating system features mass transit support for Maps, a News app, a redesigned Apple Wallet and more. Apple iOS 9 will roll out as a free update to existing Apple iPhones on Wednesday, September 16. You can learn more by reading our iOS 9 coverage here on Techlicious.
Pre-orders for the new iPhone 6S and 6S Plus start on September 12; the devices officially launch on September 25. Prices start at $199 for the 16 GB iPhone 6S and $299 for the 16 GB iPhone 6S Plus (with two-year contract). Apple has also announced a new iPhone Upgrade Program that lets you get a new iPhone every year with Applecare+ starting at $32 per month. To learn more, stop by your local Apple store or visit the company's website.
[Image credit: Apple]