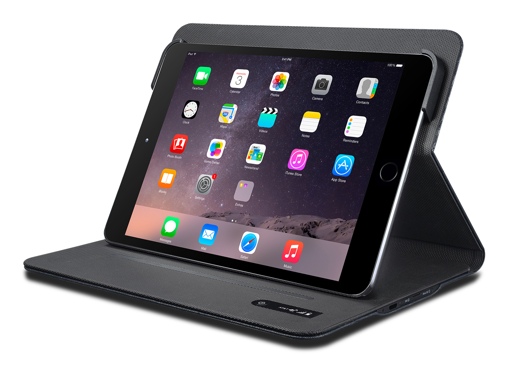 Want to turn your Wi-Fi only iPad mini into a true go-anywhere device? Today, AT&T announced the coming availability of the AT&T Modio LTE case for the iPad mini 3, iPad mini 2 and iPad mini with Wi-Fi models. It's a protective case with a 4G LTE relay built right in, allowing you to surf the web, post to Facebook, email and more while away from home via the AT&T wireless network.
The AT&T Modio LTE case's connection is smart enough to turn on and off automatically based on whether the folio case itself is open; the rechargeable battery offers about 16 hours of use on a single charge. You can monitor your data usage through the companion AT&T Modio Data app, available for free on the Apple App Store. And if you need extra storage space, the Modio comes with a welcome surprise: a microSD card slot that supports up to 32GB of additional storage.

The Modio LTE case is an AT&T exclusive. It can be purchased on two-year commitment for $49.99 (plus $40 activation fee), or contract-free for $199.99 (or $10 per month for 20 months). Once purchased, you'll also need to pay a $10 per month access charge to connect the case to the AT&T wireless network. The data you use will need to come out of an AT&T Mobile Share Value plan data bucket. Those plans start at $20 per month, if you don't have one already. The bottom line: If you're regretting your decision to not buy a 4G LTE-ready iPad mini, the AT&T Modio LTE case provides a great way to add that functionality to the base Wi-Fi-only model. It's only cost effective for current AT&T customers with an existing Mobile Share Value plan, though.
The AT&T Modio LTE case will be available at AT&T retail stores and on att.com starting Friday, March 20. You can learn more about it by visiting the AT&T website and watching the short promotional video below.
[Image credit: AT&T]